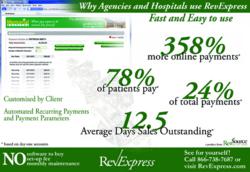 "We are always looking for state-of-the-art solutions which create efficiencies and improve performance for our clients," commented Griffin McGahey
Muncie, IN (PRWEB) November 11, 2011
RevSource Solutions, a leader in online personalized payment solutions for the collection industry and healthcare, recently announced a partnership with High Cotton, a leader in letter and statement services, to empower customers with RevExpress to increase and accelerate online payments for early out self-pay and collections. RevExpress' personalized websites automate online payments and increase staff efficiencies while providing custom branded websites for clients.
"We are always looking for state-of-the-art solutions which create efficiencies and improve performance for our clients," commented Griffin McGahey, vice president of High Cotton. "Integrating RevExpress with our current solutions will empower our clients to utilize the most effective and efficient solution for online payments available in the market, enabling them to improve performance and their bottom line."
"We are excited to partner with High Cotton because of their impressive reputation and superior services in their markets," said Paul Smith, president at RevSource Solutions. "We admire their leading edge, patient-friendly billing solutions and are eager to add patient-friendly payments to their offerings."
To learn how you can increase and accelerate revenue, visit http://www.RevSourceSolutions.com or email info(at)revsourcesolutions(dot)com.
About RevSource Solutions:
RevSource Solutions, LLC headquartered in Muncie, Indiana has developed innovative and efficient receivables management and revenue cycle enhancement solutions. Clients representing market sectors include Healthcare, Collection Agencies, Law Firms, Charitable Organizations, and Membership Organizations. RevExpress utilizes secure, personalized websites to increase and accelerate revenue. The Company facilitates the management of payments, processing, remittance, e-mail confirmations, demographic data and insurance updates all in a single online solution.
About High Cotton:
Birmingham, Alabama-based High Cotton is a leading provider of customer communication solutions to businesses in the collection, healthcare, utility and banking/financial industries. With over 40 years of experience, High Cotton offers multiple channels of distribution services including document print and mail, e-billing, email notifications, SMS messaging, and QR Codes. High Cotton's leading-edge technologies enable clients to improve their cash flow, while increasing deliverability and ensuring data security. High Cotton offers additional services including document personalization and redesign, EBPP solutions and document archival. For more information, visit http://www.highcottonusa.com
RevSource Solutions, RevExpress and respective logos are trademarks of RevSource Solutions, LLC. Other company and product names may be trademarks of their respective owners.
Media Contact:
Paul G. Smith
765/744-3443
pauls(at)RevSourceSolutions(dot)com
###