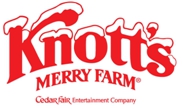 Buena Park, CA (PRWEB) November 11, 2011
Now a holiday tradition in Southern California, Knott's Merry Farm is proud to present the holiday ice spectacular, "It's Christmas, Snoopy!" The show, performed in the 2,100-seat Charles M. Schulz Theatre, is hosted by the famous skating beagle and his PEANUTS friends as they look for the true meaning of Christmas and features Knott's ensemble skaters, dazzling sets, colorful costumes and plenty of surprises! "It's Christmas, Snoopy!" will be presented November 23-27; December 2-4, 9-11, 16-20, 22-24, 26 & 27, 29-31, 2011 and January 1, 2012.
"A Peanuts' Holiday Parade" offers seven elaborately themed floats featuring the PEANUTS Gang and accompanied by students from Orange County Song and Dance Company. Children and adults alike will be able to get into the holiday spirit along with CHARLIE BROWN, LUCY, LINUS, SALLY, SCHROEDER and of course SNOOPY, as they get ready for the holidays. Join them as they partake in all the holiday festivities including candy making, tree trimming, and even toy building! "A Peanuts' Holiday Parade" will run November 24-27; December 3-4, 10-11, 17-23, 26-30, 2011 and January 1, 2012.
Knott's 1880s Ghost Town will again be transformed into Knott's Christmas Crafts Village, inviting mall-weary guests to explore one-of-a-kind treasures created by more than 100 artisans in a Victorian holiday wonderland of strolling carolers, musical groups, community choirs and lavish holiday decorations.
Adding to the unique Village atmosphere are live performances of Charles Dickens' "A Christmas Carol" and O. Henry's "A Gift of the Magi" in the Bird Cage Theatre.
Elf Mountain Christmas is also back. The world famous Timber Mountain Log Ride has once again been transformed this holiday season giving guests an up-close and-personal view into the world of Santa's Elves. Sneak a peak as Santa's helpers as they get ready for Santa's busiest day of the year. Rich with lights, music and the merriest of times, this attraction will remain open until Jan. 1, 2012.
Guests can also experience the wonder of "Snoopy's Christmas Light Spectacular." Hundreds of thousands of twinkling white and multicolored lights merrily light up the nighttime sky accompanied by a festive soundtrack that bring the Christmas spirit alive from dusk to Park closing.
A trip to Knott's Merry Farm would not be complete without a visit with the man of the hour – Santa! Stop by Santa's Toy Barn for a little one-on-one with the big guy. Here, in Santa's cozy hideaway, kids can share their wish lists with St. Nick, and Mom and Dad can take home a picture of the occasion (photo requires additional fee).
Village guests can also indulge in the ultimate comfort foods with Knott's world-famous holiday treats, including fresh-baked pies, cakes, cookies, muffins and gingerbread men, as well as daily specials and the legendary cooking at Mrs. Knott's Chicken Dinner Restaurant.
For an all you can eat buffet, try Joe Cool's Backyard BBQ Holiday Style starting November 25 and running Saturdays and Sundays through December 31. For only $23 for adults and $19 for seniors (62+) and season pass holders and $15 for kids (3-11), you can partake of a holiday feast that includes Mrs. Knott's famous fried chicken, roast turkey, vegetarian lasagna, roast beef, mashed potatoes, boysenberry pie and much more! For reservations, call 1-800-PICNICS.
Another holiday treat is "Snoopy's Calico Christmas Tree Lighting" each evening in Calico Square. Join SNOOPY, LUCY, LINUS, SALLY and CHARLIE BROWN as they host a song-and-dance show complete with carolers and a Christmas sing-along then light a beautifully decorated Christmas tree, November 24-December 1-23, 26-30 2011, Jan 1, 2012. The Peanuts gang is also featured in their very own live musical show, "Winter Wonderland" shown daily in Camp Snoopy.
Merry Farm guests can combine their holiday treats with Knott's blockbuster rides. The legendary GhostRider®, the ultimate wooden sleigh ride; 30-story Supreme Scream®, the world's tallest descending thrill ride; Silver Bullet, the longest and tallest suspended coaster in the West and Knott's newest addition WindSeeker which takes guests on a flight over 300 ft over the park!
Knott's Merry Farm admission covers all Christmas Crafts Village and in-park shows and activities, including the ice show, "It's Christmas, Snoopy!" and all regular rides, shows and attractions including Silver Bullet, GhostRider®, Supreme Scream® and XceleratorSM.
Knott's opens daily at 10 a.m. The park closes Dec. 25 to allow its employees to spend Christmas with their families. For information about the day you plan to visit and available discounts, call (714) 220-5200 or click on http://www.knotts.com.
###