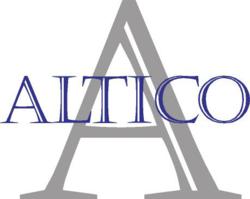 "This White Paper serves as a tool for CFOs who are evaluating cloud-based ERP Software."
Marlborough, MA (PRWEB) November 15, 2011
Altico Advisors (http://www.AlticoAdvisors.com) - a Microsoft Gold Certified Partner specializing in Microsoft Dynamics GP, Microsoft Dynamics CRM, SharePoint, Business Intelligence, and Integration Services – announces the release of a new white paper, "35 Questions Every CFO Needs to Ask About ERP Software in the Cloud." Written for CFOs (Chief Financial Officers) and financial professionals who are evaluating moving ERP (Enterprise Resource Management) software to the cloud. This white paper offers a clear question and answer format designed to give CFOs the background they need to evaluate and compare cloud-based ERP choices.
Altico Advisors was chosen by the ERP Software Blog to be part of a panel of 14 ERP and accounting software experts from across the US and Canada who contributed knowledge to this project.
"We appreciated the opportunity to serve on the panel of experts who contributed to this ground-breaking white paper on cloud-based ERP software," says Mike Kean, President at Altico Advisors. "It is unique in its approach to serve as a tool for CFOs who, after all, are the ones responsible for the bottom line."
The 35 jargon-free questions cover topics the CFO needs to understand to make an informed decision including: Cloud Definitions, Potential Benefits of Cloud ERP, Common Concerns of Cloud ERP, Compliance Considerations, and Licensing Questions. High level answers to each question provide the foundation for CFO cloud knowledge.
Included in the guide are nine informative graphs and a sample cost comparison chart providing a simplified 5-year model to help CFOs evaluate ERP deployment options including: on premises, on demand and hosted. Business drivers critical to organizational growth, risk, and operations are also compared for each ERP deployment model through an easy-to-understand checklist.
"The content in this white paper is written in a clear and easy to understand way because it is based on the extensive, real life experience of our panelists. Each of them was chosen because of their expertise in helping real organizations make informed decisions about the transition of ERP software to the cloud," comments Anya Ciecierski, manager of the ERP Software Blog.
To supplement this white paper, Altico Advisors has released an update to the popular Microsoft Dynamics GP QuickQuote request tool. In addition to receiving an instant cost estimate for Microsoft Dynamics GP software licenses, annual maintenance, and implementation services, the QuickQuote tool now includes estimated pricing for deployment options including On Premises, Hosted or On Demand/SaaS (Software as a Service). This tool can be accessed at: http://www.alticoadvisors.com/quick-quote.aspx
This white paper is the second release of the ERP PANEL PAPERS - a straightforward series of white papers from a nationwide panel of ERP experts. The first white paper in the series, "Beyond Software: How to Estimate the Cost of ERP Implementation Services" has also received wide distribution and is available On Demand.
The white paper, "35 Questions Every CFO Needs To Ask About ERP Software in The Cloud," can be downloaded at http://www.alticoadvisors.com/practice-areas/microsoft-dynamics-gp-in-the-cloud.aspx
About Altico Advisors
Headquartered in Massachusetts, Altico Advisors implements and supports business, financial, and customer management software solutions for mid-market enterprises, primarily throughout New England. Altico is a Microsoft Gold Certified Partner specializing in Microsoft Dynamics GP (Great Plains), CRM, Business Intelligence (BI), and SharePoint systems for manufacturing, distribution, software development and service companies. In addition, Altico provides a wide variety of consulting and advisory services, such as outsourced financial services, business and IT strategy alignment, software selection, and business analytics. Connect with Altico Advisors on Twitter @AlticoAdvisors or visit the Altico Web site at http://www.AlticoAdvisors.com
About ERP Software Blog
ERPSoftwareBlog.com is a nationwide group of experts dedicated to assisting financial professionals in the ERP/Accounting software selection process. Connect with ERP Software Blog on Twitter @erpsoftwareblog or visit http://www.erpsoftwareblog.com and http://www.crmsoftwareblog.com to browse articles and free resources.
###