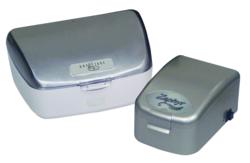 Johnson City, TN (PRWEB) November 16, 2011
Grandpa will be thankful every morning when he wakes up to fresh, clean, and dry hearing aids.
Dry & Store is an electrical appliance intended for use every night for the care and maintenance of hearing instruments of all types. It works by circulating warm, dry air to completely remove damaging moisture.
Why is that important? For starters, moisture is the number one cause of hearing aid problems. Secondly, moisture on a microphone and/or receiver can damp high frequency sounds that are critical to understanding speech. Third, moisture interferes with sensitive micro-electronic components. And over time, moisture will cause corrosion that's irreversible. Any way you look at it, the result is poor hearing aid performance, even complete failure.
Removing moisture – completely removing it – allows hearing instruments to once again operate at peak performance.
Both models by Dry & Store – the Zephyr and Global – use DryMax™ technology for incredibly thorough and efficient drying. The Global model has an added benefit: it sanitizes hearing aids, using a germicidal UV-C lamp to destroy bacteria that flourish on hearing aids and are frequently the cause of itchy, irritated ears.
Across the board Dry & Store delivers on the promise of better hearing through better hearing aid care.
Ear Technology located in Johnson City, TN manufactures Dry & Store and distributes it in 38 countries around the world. Dry & Store is recognized worldwide as the pinnacle of hearing instrument care. Products can be purchased online at the company's website, http://www.dryandstore.com, or through local hearing healthcare professionals. Visit http://www.dryandstore.com/Locator to find a retail source near you.
# # #