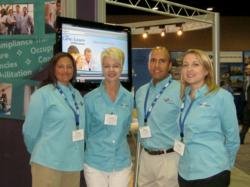 "As a company whose core focus is advancing healthcare through education, we look forward to attending CAHF's convention every year." - Kelly Conlon, Marketing Communications Manager for Care2Learn
Tampa, FL (PRWEB) November 11, 2011
Care2Learn, the leader in online healthcare CE for the post-acute care industry, will showcase its premier web-based continuing education content and healthcare compliance training curriculum November 14–15, 2011 at the California Association of Health Facilities 61st Annual Convention & Expo at the Renaissance Palm Springs and Palm Springs Convention Center.
Featuring hundreds of exhibitors—from healthcare equipment and pharmaceuticals providers to medical staffing and software companies—the popular event brings together long-term care owners, operators, administrators, DONs and other key staff from facilities across the state to explore the latest products and services geared toward the growing senior care industry.
Care2Learn will be located at Booth 504, where visitors can preview what the online healthcare CE provider has to offer—including more than 800 hours of fully accredited CE courses and over 130 inservices. Care2Learn's industry-leading healthcare Learning Management System incorporates the latest eLearning technology and features convenient 24/7 access, full reporting, and live client support available seven days a week.
"The long-term care industry is vital to our nation's economy as well as the health and well-being of its seniors," says Kelly Conlon, Marketing Communications Manager for Care2Learn. "As a company whose core focus is advancing healthcare through education, we look forward to attending CAHF's convention every year and connecting with other companies and individuals who share our mission."
In addition to exclusive free gifts, industry professionals who visit Care2Learn at the CAHF 2011 Convention & Expo will receive a free online healthcare CE course: Preventing Rehospitalization in Long Term Care: Leadership Solutions, authored by renowned nurse consultant and educator Barbara Acello. The informative 4-hour course examines the growing issue of rehospitalization in skilled nursing facilities and looks at the financial benefit to reducing hospital readmissions as well as evidence-based strategies for preventing rehospitalization.
About CAHF
The California Association of Health Facilities (CAHF) is a non-profit professional association dedicated to improving the quality of long-term care in California through educational programs and proactive advocacy with the Legislature and administrative agencies. CAHF's membership is comprised of more than 1,250 licensed non-profit and proprietary health facilities serving a wide spectrum of needs in a variety of settings.
About Care2Learn
Founded in 2000, Care2Learn provides online healthcare CE solutions for the post-acute care industry. The Care2Learn course library includes more than 800 hours of accredited content written by top subject matter experts and delivered to more than 320,000 healthcare professionals in all 50 states. Acquired by RedVector, the premier online CE provider for the design, engineering, and construction industries, Care2Learn continues to grow by offering customized online eLearning universities to companies wishing to offer training and education solutions to their entire staff in a cost-effective, easy-to-use, and readily accessible manner. For further information, call 1-866-703-9418 or visit http://www.Care2Learn.com.
###