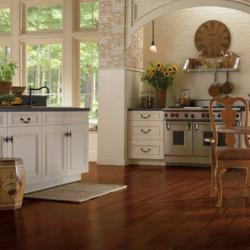 Free Business to Business Shipping (w/ dock) on any size order of African Safari Wenge and African Safari Mahogany
Denver, Colorado (PRWEB) November 15, 2011
For a limited time, Flooring Store Online is offering its first Overstock Sale on African Mahogany and African Wenge engineered hardwood flooring. All products are brand new and come with a manufacturer's 25 year warranty. Flooring planks are 5 inches by 48 inches by .5 inches thick and come with 7 coats of matte aluminum oxide finish to create a durable surface.
African Safari Wenge prices are:
$4.70 sf (up to 376 sf)
$4.50 sf (for 377 - 780 sf)
$4.30 sf (781 sf or more)
African Safari Mahogany prices are:
$4.40 sf (up to 376 sf)
$4.20 sf (for 377 - 780sf)
$4.10 sr (781 sf or more)
"Floorage is a premium player in the hardwood flooring market and because of excess inventory we are offering these products at prices as low as $4.10 sf," says CEO, John Countryman. "To make these deals even more amazing we are offering free business to business shipping (w/ dock) anywhere in the continental USA."
About Floorage Products
Founded in 2003, Floorage Products Corporation is  a U.S.-based manufacturer and distributor of clear grade Pre-finished African Engineered Hardwood floors (Safari Collection) ; Pre-finished Solid and Engineered Bamboo flooring and Pre-finished Solid Hand scraped Bamboo flooring.  Since its inception, Floorage has been dedicated to providing high quality products to the U.S. market.  We utilize KLUMPP Aluminum Oxide finish as well as Belgium or Danish glues in the production of our floors.  Therefore, our products exceed E1 Environmental standards for formaldehyde emission.  Our dedicated production facilities are ISO certified.  We manufacture our product in a few dedicated factories thereby ensuring the quality consistency of our products. In addition, we manufacture and stock a full line of matching accessories. Our mission is not only to provide high quality flooring but also to provide excellence in customer service. 
About Flooring Store Online 
Flooring Store Online features a full line of flooring products that includes cork flooring, laminates, hardwood, bamboo floors, natural stone tiles and area rugs. This innovative flooring company offers a wide selection of quality products from APC Cork, Grass Elements, Floorage, Agora Surfaces and Quickstyle Laminates as well as underlayments, wood trims and adhesives. Flooring Store Online provides dedicated customer service backed with a thorough knowledge of its products to help the customer select the best flooring for their lifestyle.
###