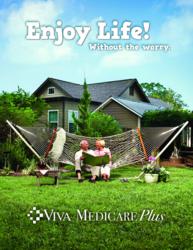 Birmingham, Al (PRWEB) November 14, 2011
VIVA MEDICARE Plus has earned the highest overall star rating in the state for the second year in a row, company officials announced today. Alabama's highest ranked Medicare Advantage plan also has experienced the largest membership growth in its service area, according to Medicare's enrollment numbers from October 2010 to October 2011, available on http://www.cms.gov.
The Centers for Medicare & Medicaid Services (CMS) recently released the 2012 star scores as part of the annual enrollment period going on now. Most Medicare patients may switch Medicare health plans or prescription drug coverage only during this period, which lasts until Dec. 7, 2011.
CMS established the star rating system to give Medicare patients a single summary score for each health plan to make it easier to compare different plans based on quality and overall performance. Plans are ranked on a scale of one to five stars. The overall score is based on more than 50 separate measures that rank member satisfaction, access to appropriate care, and managing chronic conditions. Summary scores for all Medicare Advantage plans can be found at http://www.medicare.gov by searching health plans by zip code. VIVA MEDICARE Plus' score of 3.5 stars is the highest in Alabama two years running.
VIVA MEDICARE Plus, part of the UAB Health System, has a contract with the Centers for Medicare & Medicaid Services to sell Medicare Advantage plans in 21 Alabama counties. Medicare Advantage health plans take the place of traditional Medicare, often lowering out-of-pocket costs and offering additional benefits for seniors and the disabled. VIVA MEDICARE Plus is the second largest Medicare Advantage plan in Alabama with 36,687 members, according to current enrollment figures found on http://www.cms.gov.
In the past, most people had two opportunities during the year to change their Medicare plan. However, due to health reform requirements, the only opportunity to switch is October 15 through December 7. After this, Medicare patients will be able to change only to original Medicare unless they meet special eligibility requirements.
Medicare patients and their families who have questions about Medicare or the star rating system are invited to speak to a Medicare expert at VIVA's Medicare Cafés. These retail locations in Birmingham, Montgomery and Mobile are designed to help people navigate the details of Medicare. Specific information on VIVA MEDICARE Plus and its 2012 benefits can be found at http://www.vivamedicaremember.com or by calling 1-888-830-8482, 8 a.m. – 8 p.m., seven days a week. TTY users should call 1-800-548-2546.
VIVA MEDICARE Cafés
1550-K Montgomery Hwy
Hoover, Alabama 35216
2107B Eastern Boulevard
Montgomery, Alabama 36117
907 Hillcrest Road, Suite G
Mobile, Alabama 36695
###