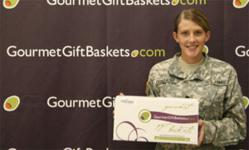 Londonderry, NH (PRWEB) November 11, 2011
Online gift basket company GourmetGiftBaskets.com has announced their Veteran's Day promotion, offering a coupon code for 11% off every order on their website, VET11. In addition to the coupon code they are also donating one care package to a soldier at Walter Reed Hospital for every order of $100 or more placed on 11/11/11.
The company is also partnering with Bloggers to write honest reviews of the holiday products being offered on GourmetGiftBaskets.com in exchange for two care packages sent to veterans at Walter Reed National Military Medical Center on behalf of their Blog at Christmas. The Bloggers will also be able to send a personalized card to the soldier. This offer is open to any Bloggers and the company would be more than happy to donate as many care packages as possible.
Bloggers should review GourmetGiftBaskets.com's Christmas Gift Baskets in a Blog Post. The topic of the Blog Post should discuss their Christmas gift selection and how they might be great gifts. GourmetGiftBaskets.com will donate two care packages for every Blog Post written. These Blog Posts should be posted between November 21st and December 9th in order to be eligible. For full details on this promotion see their blog post.
GourmetGiftBaskets.com has supported many humanitarian and disaster relief teams in appreciation of what they do for their friends, neighbors and countryman. The management and team at the company believe that their gift baskets are often given in appreciation and can think of no better way to spread the word about their products then by showing appreciation to others who give willingly. The online retailer has been supportive of the military in the past sending 10,000 Slim Jims to OperationGratitude.com to include in their care packages sent to soldiers overseas.
###