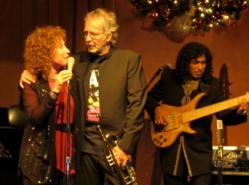 Bel Air, California (PRWEB) November 14, 2011
Herb Alpert's Vibrato Grill, Jazz, etc. in Bel Air, CA is changing pitch. Recognized as the number one jazz grill in Los Angeles, Vibrato has a new chef, Wilks Medley. Wilks, trained by celebrity chef Todd English, is serving American grill classics from Kobe burgers, to veal chops, chilled oysters and crab cakes, farm-fresh salads and vegetarian quinoa risotto. Herb Alpert, jazz musician and owner, says, "The musicians play at a certain noise level, so jazz creeps into guests while dining. This is background jazz, not fusion jazz."
"The concept of Vibrato was to have jazz survive. At first, it was to be a great jazz club with food. Now, it is a great restaurant with great jazz," notes Alpert. At Vibrato, the high-end food goes perfectly with high-end jazz. A unique environment in Los Angeles, Vibrato boasts perfect acoustics with impeccable food. "My ambition is to have a club where you feel comfortable, where great musicians can play and appreciate sound and feeling - a venue for jazz players to perform," he says.
The interior design of Vibrato was created by artist Herb Alpert and decorator Clodagh. Vibrato has a hundred seats around the stage, a bar designed like a piano, and a balcony with seating overlooking the club. "The acoustics are a key component of the design," says Alpert, whose art hangs in the club. "Wood and music create good sound. I used the A&M recording studio designer to make sure that the acoustics were right. The mushroom-like globes act as acoustical clouds," says Alpert, who occasionally plays at Vibrato with his wife the famous Brasil 66 singer, Lani Hall. Among the artists who have performed at Vibrato are: The Dave Brubeck Quartet, Steve Tyrell, Seth MacFarlane, Clayton-Hamilton Big Band, Diane Reeves, Houston Person and Bobby Hutcherson.
Zagat Guide reviews of Vibrato run from: "Perfectly prepared steaks" and "first rate jazz" prove "the perfect combination" at this "sophisticated" Bel Air "supper club" co-owned by trumpeter Herb Alpert, to "A beautiful restaurant. The acoustics are perfect for the performers and there is not a bad seat in the house. Well done!"
Adam Robert (now at the Food Network) wrote of Vibrato: "Although Alpert is best known for his music, he added restaurateur to his credits when he opened Vibrato. A grill and jazz club at the top of Beverly Glen." Alpert told Robert: "Food at jazz clubs has always been a kind of second-class citizen. It's the music first, and then let's throw something together." Now Alpert, who once hoped to open a place with his buddy Stan Getz, has an upscale jazz club with food to match. "I was involved in everything," Alpert says, "the look, the feeling of the place, the music, the food. I paid a lot of attention to make the accoustics beautiful."
Steve Oney, Los Angeles Magazine, May 2011 said: "Vibrato, with its cozy wooden interiors, perfect sight lines from every seat, and state-of-the-art acoustics, has drawn performers ranging from Toots Thielemans and Dave Brubeck to Bobby Hutcherson and Chuck Mangione. Which is exactly what Herb Alpert had in mind when he started it. 'There are so many great musicians in L.A.,' he says, 'I run the place so they'll have somewhere to play.'"
On KJAZZ Radio, "The sound at Vibrato is exquisite. The idea was to have a special place for all the jazz musicians and all the young musicians to perform."
Future Jazz performers at Vibrato are: November 15th Carol Welsman, November 16th Herb Alpert and Lani Hall, November 20th Misha Piatigorsky performing with the Sketchy Black Dog, November 22 Barbara Morrison, December 3 Gilbert Castellanos.
Vibrato guests include: Billy Dee Williams, Stevie Wonder, Frankie Valli, Tom Jones, Michael Buble, James Caan, Sylvester Stallone, Bruce Willis, Clint Eastwood, Chubby Checker, Michael Bolton, James Worthy, Natalie Cole, Shia La Beouf, Jack Nicholson and Vidal and Ronnie Sassoon.
"It's our local...steakhouse and jazz club," say the Sassoons.
Vibrato Grill, Jazz, Etc. is a Herb Alpert restaurant in partnership with
Gregg and Bob Smith of Smith Brothers restaurants.
For Reservations:
Vibrato Grill, Jazz, etc.
2930 Beverly Glen Circle
Bel Air, CA 90077
310-474-9400
info(at)vibratogrilljazz(dot)com
For Information and Interviews:
C4 Global Communications
Santa Monica, CA
310-899-2727
caroline(at)c4global(dot)com
###