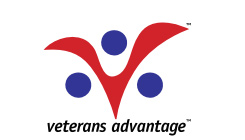 This 50% discount on Veterans Day is part of our ongoing effort to introduce the Veterans Advantage program to more Veterans
New York, NY (PRWEB) November 11, 2011
Veterans Advantage is celebrating Veterans Day – 11/11/11 – with a float in the NYC Veterans Day parade and a special one-day 50% OFF membership discount for Veterans and their families. Active Duty Military, Veterans, National Guard & Reserve and their families can join the leading card benefits program for those who serve at half price for a one-year membership. Qualifying Americans can access this first-year discount at http://www.VeteransAdvantage.com/nov11
From the site of the New York City Veterans Day parade on Fifth Avenue, the company announced that it is saluting four of its newest corporate partners: FootLocker, Inc. Verizon Wireless, Wendy's and Overstock.com. Veterans Advantage partners provide everyday discounts to Veterans Advantage "VetRewards" Card members, as a thank you for service to the country. Veterans Advantage is a national program launched in February 2001.
"This 50% discount on Veterans Day is part of our ongoing effort to introduce the Veterans Advantage program to more Veterans," said H. Scott Higgins, Founder and CEO, a Vietnam Veteran. "At the same time, we are showcasing four of our newest corporate partners, who offer important everyday savings to our members."
The special 50% discount offer will also be available to the company's followers on Facebook, http://www.Facebook.com/VetRewards and Twitter, http://www.Twitter.com/VetRewards.
MORE ON THE PARADE
This year's parade marks the 50th Anniversary of the beginning of the Vietnam War. Veterans Advantage is honoring three fellow Vietnam War Veterans on its Board of Advisors, Medal of Honor Recipient Paul W. Bucha, Gerry Byrne, and Peter W. Eldredge who are marching with the Veterans Advantage float.
"Scott's tireless work for Vietnam Veterans – and now all Veterans through the last twelve years at Veterans Advantage – is a true display of service after service. It is a pleasure to march once again with the Veterans Advantage team and its fellow members," Byrne added.
The company's link with the Veterans Day parade and other New York City Veterans-related causes has been ongoing since the early 1980s. Higgins is a former co-chairman of the New York City Vietnam Veterans Memorial Commission, which established the NYC Vietnam Veteran Memorial located downtown on Water Street. In his co-chairman role, Higgins helped organize the NYC Vietnam Veterans "Welcome Home Parade" in May 1985, which, at the time, was the largest ticker tape parade in New York City history.
ABOUT VETERANS ADVANTAGE
Veterans Advantage, founded in 1999 by a group of high-ranking military veterans, is the leading card membership program offering exclusive benefits for the more than 90 million qualifying Americans from a nationwide network of retailers and service providers across the U.S. The program's mission is to deliver greater respect, recognition and rewards as a thank you for service to the country through the VetRewards Card, a universal military service ID card, and in its partnerships with patriotic companies.
Learn more at: http://www.VeteransAdvantage.com.
###