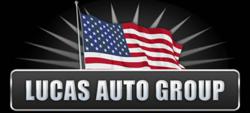 Burlington/Lumberton, NJ (PRWEB) November 11, 2011
The Lucas Auto Group is clearing inventory and making room for all the 2012 models that are arriving, getting ready for some great fall and year-end sales for all their loyal customers and any new customers that are interested in the incredible upcoming deals they have to offer. Lucas Auto Group is not only a Ford dealer in Burlington but it is a Dodge dealer in Lumberton and a Chevy dealer in Lumberton all in the great state of New Jersey, where folks looking for new and used cars in the Burlington/Lumberton area can come in and find stellar deals on many different makes and models currently in stock and available for immediate purchase. Finding a new or used vehicle has never been easier at the Lucas Auto Group than right now. All three of these fine dealerships offer online deals from their respective websites for car and truck shoppers to visit and explore the enormous inventory in their online showrooms available to the public. These websites take the ease of vehicle shopping to a whole new level allowing consumers to peruse vehicles at their leisure from the comfort of any home or work PC, so there's absolutely no pressure involved whatsoever, and the prospective customer can do their preliminary price comparison shopping privately. It's also a great way to see what each individual is approved or pre-approved for without the hassle or embarrassment that can occur in a face-to-face situation. Here everything is done online in a no-hassle atmosphere.
In addition to their online features, Lucas Auto Group has full-service in-house repair and maintenance services available at each of their dealerships offering high-quality OEM parts installed by highly trained certified technicians to perform a host of service department needs. One can shop for parts or schedule a repair or maintenance online at one's convenience, all in an effort to make their valuable customers' lives that much easier. Automobile shopping and scheduled maintenance and repairs just got that much easier with their innovative ideas, keeping them on the cutting edge of today's tech-savvy world that we live in. Keeping up with the pace is all part of the bigger picture at Lucas Auto Group, along with getting and keeping satisfied customers. Lucas knows that satisfied customers means loyal customers, and trust goes a long way to lending itself toward long and happy relationships. And Lucas also knows shoppers have many choices available to them and wants to prove to them that their dealerships are the first and last place automobile consumers will ever have to shop for their current and future automotive needs. They are a top-rated, independent and family-owned group of dealerships serving the people of New Jersey since 1946. All three of these respected dealerships in the Lucas Auto Group has a vast lineup of trucks available for consumers in the market for them. Shoppers looking for a Dodge truck dealer in Lumberton or a Ford truck dealer in Burlington or a Chevy truck dealer in Lumberton can be assured that all their truck buying needs can be met at any of these three dealerships with complete confidence.
The Lucas Auto Group has worked hard for over 65 years to attain the level of success that they've achieved, and as part of their current strategy to maintain that high level of visibility they have partnered up with JP Automotive Marketing, soon to be First in Results SEO Marketing. The entire auto inventory of the Lucas Auto Group can now be easily seen on the Web much more conveniently due largely to JP Automotive Marketing. Through their groundbreaking Web-based framework and individualized auto dealership websites, JP Automotive Marketing helps auto dealers in leading the market when it comes to site/inventory load speed, consumer experience, and Search Engine Optimization (SEO). In today's online marketplace as it pertains to the auto business, the need for virtually every auto dealership to be easily located online through various major search engines such as Google, Yahoo, and Bing is essential, especially within the incredibly competitive auto sales industry. At this time, JP Automotive Marketing holds top terms for leading auto companies including Honda, Ford, Toyota, and Chevrolet in major US markets such as Houston TX, Atlanta GA, Cincinnati OH, Philadelphia PA, and Jacksonville FL. JP Automotive Marketing has also been given the advertising compliance seal of approval from major auto companies which include Honda, Toyota/Scion, Ford, Chevrolet, Dodge, Chrysler, Jeep, Mazda, Suzuki, Mitsubishi, and Nissan. The principal purpose of JP Automotive Marketing is to assist auto dealers in becoming #1 within their own metro area marketplace, both on the Web with regards to elevating SEO results, and subsequently offline as they transform those elevated SEO into greater overall sales figures.
###