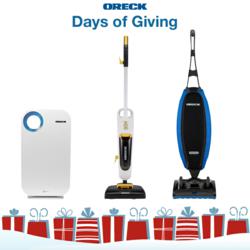 Days of Giving offers easy ways to enter, daily prizes and the chance for a $10,000 grand prize. We invite you to celebrate the season with 31 days of chances to win our newest Oreck vacuum, steam mop or air purifier. Scott Vogel, Chief Marketing Officer
Nashville, TN (PRWEB) November 12, 2011
Just in time for the holidays, Oreck is making the season more magical by offering consumers a month's worth of chances to win a daily prize, as well as a $10,000 grand prize. The Oreck Days of Giving sweepstakes runs from November 9 through December 9, 2011.
"Days of Giving offers easy ways to enter, daily prizes and the chance for a $10,000 grand prize. We invite you to celebrate the season with 31 days of chances to win an Oreck vacuum, steam mop or air purifier—even our new products are included," says Scott Vogel, Chief Marketing Officer, Oreck.
Sweepstakes participants must log on every day for a chance to win that day's prize: a vacuum cleaner, steam mop or air purifier from Oreck's line-up which also includes brand new products. Logging on daily also affords another chance to win the $10,000 grand prize.
Participants can gain additional chances to win by engaging in social media activities including tweeting about the contest, posting it on Google Plus, sharing it with up to five friends via email from the sweepstakes site and signing up for Oreck's email list.
Each day during the sweepstakes period, Oreck will select a winner to receive a prize from one of these categories: upright vacuums, steam mops or air purifiers.
Visit http://www.OreckDaysofGiving.com for details.
About Oreck
Headquartered in Nashville, Tenn., Oreck Corporation is a leading manufacturer in the homecare industry, offering a variety of vacuum, air purification and other cleaning products. Oreck sells its products in hundreds of Oreck Clean Home Centers, as well as through phone and online direct sales. The company distributes products in the U.S., Canada and parts of Europe. For more information, please visit http://www.oreck.com.
###