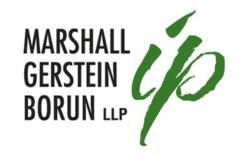 Chicago, IL (PRWEB) November 14, 2011
Two partners from Marshall, Gerstein & Borun LLP, an intellectual property law firm located in Chicago, Illinois, have been honored as being among the world's leading Patent and Technology Licensing Lawyers by Intellectual Asset Management magazine. Pamela L. Cox and Patrick D. Ertel are on the IAM Licensing 250 list for 2011.
The IAM Licensing 250: The World's Patent and Technology Licensing Practitioners identifies attorneys who are legal market leaders in patent and technology licensing. In addition to being nominated by their peers and through extensive research, Ms. Cox and Mr. Ertel have been selected as attorneys to whom clients turn when seeking an effective licensing arrangement.
"We are pleased to see that our leadership in the area of intellectual property law has been recognized in this year's IAM 250," said Jeffrey S. Sharp, managing partner of Marshall, Gerstein & Borun. "The experience and expertise Pam and Pat bring to licensing matters has been valuable to our clients."
Pamela L. Cox concentrates on transactions and counseling related to IP strategies, protection and transfer. As a patent attorney who managed portfolios in-house, Ms. Cox understands her clients' IP and agreement needs, and remains dedicated until they achieve their strategic objectives. Clients find her talented at addressing and negotiating complex deal structures and devising creative solutions for technology transfers.
Patrick D. Ertel has regularly represented licensors and licensees in negotiating and drafting technology-related license agreements for over 35 years. He advises on non-disclosure and employment agreements and on nearly every aspect of IP transactions. Mr. Ertel also counsels clients on all manner of patent, copyright and trademark matters.
Published six times per year, Intellectual Asset Magazine is the only publication to focus on intellectual property as a business asset. The global publication's audience is C-suite and boardroom executives in all industries. The methodology of the selection process can be found here. The full list of the IAM Licensing 250 can be viewed here.
Marshall, Gerstein & Borun LLP is exclusively focused on intellectual property law, and protects, enforces, and transfers the intellectual property of its clients in more than 100 countries on six continents. The Firm delivers perspective and guidance where science, technology, and law converge. Nearly half of the Firm's professionals have been in-house as general counsel, patent counsel, technology transfer managers, scientists, engineers, or consultants, and offer depth of talent and seasoned experience in devising and executing intellectual property strategy comprehensive IP solutions. The Firm represents Fortune 250 corporations, multinational businesses, start-up organizations, and non-profits. Marshall, Gerstein & Borun LLP is ranked as a top intellectual property law firm by Chambers USA in Illinois, as well as by U.S. News & World Report and Best Lawyers, Corporate Counsel, Managing IP, Fortune, Intellectual Property Today, and Intellectual Asset Management magazines. Learn more at http://www.marshallip.com.
###