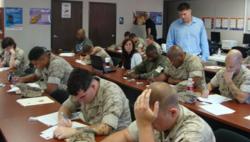 "We want to send our gratitude to all of you who have supported our nation's heroes through Hire Heroes USA." – Brian Stann, Hire Heroes USA President and TEAM Bodybuilding.com Athlete
Boise, ID (PRWEB) November 11, 2011
Customers of the world's most visited bodybuilding and fitness site, Bodybuilding.com, have donated over $17,500 this year to Hire Heroes USA (HHUSA). Transitioning back into civilian life can be challenging for service men and women, especially those wounded or disabled. When trying to establish civilian careers, many veterans find themselves behind other job seekers in terms of employment experience and networking in the civilian world. This becomes especially difficult, as the United States faces raising unemployment rates and financial difficulties. Bodybuilding.com customers felt it was their duty to give back to those who have sacrificed for our country.
Whenever a customer shops at Bodybuilding.com and spends $75 or more, they are offered a free gift at checkout. Customers have the option to veto the free gift and instead have $2 donated to Hire Heroes USA. Almost 9,000 customers felt it was more important to give back than to receive something for themselves. Bodybuilding.com not only feels it's important to provide customers with a way to give back, but they also signed Hire Heroes USA President and Silver Star recipient, Brian Stann, to its personal TEAM of athletes.
Hire Heroes USA's mission is to offer transition assistance, job search assistance, and job placement services to those who have honorably served in the US military – and to their spouses – in order to reduce veteran unemployment. While open to all veterans, they place a priority on veterans statistically most likely to be unemployed: veterans of Operations IRAQI FREEDOM and ENDURING FREEDOM, and veterans who are wounded or disabled. The services HHUSA provides help ease the transition into civilian life and ensure these selfless men and women have the opportunity to enjoy the freedoms they fought to preserve.
"Hire Heroes USA was there when I needed them most. I can't say how grateful I am for their help with job placement after the Marine Corps. I completed eight and a half years of active duty service and proudly served during three combat OEF and OIF deployments. I never thought the civilian world would be so tough to re-adjust to. Within days I was contacted by my representative and was provided with mentors from different corporations who helped me polish up my knowledge, skills, and abilities." - Erik Zielinski, United States Marine
What sets Hire Heroes USA apart from other military-based job boards is their personal approach to preparing veterans for the civilian job market through job search coaching and education on self-marketing through Warrior Transition Assistance Workshops, outreach events hosted at military installations, or through online and phone assistance. They literally take the skills and achievements one has accomplished in their military career and help translate them into business assets with real-world applications.
"We ask for your continued support in helping us connect with veterans, employers, and donors to ensure we can continue to be the premier employment assistance organization for veterans. As always, we want to send our gratitude to all of you who have supported our nation's heroes through Hire Heroes USA." – Brian Stann, Hire Heroes USA President and TEAM Bodybuilding.com Athlete
For more information on Hire Heroes USA, please visit http://www.hireheroesusa.org/
Bodybuilding.com offers more than 13,000 health & fitness supplements and accessories to help more than 11 million people every month achieve their health, fitness and appearance goals, as well as over 35,000 pages of free information, including more than 20,000 articles and videos, expert online trainers, and new content added daily.
For more information: http://www.bodybuilding.com
Contact: Crystal Matthews
Email: crystal(at)bodybuilding(dot)com
Phone: 208.472.9311
###