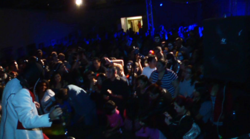 It was a great experience to see young and old, Latinos and non-Latinos come together to celebrate this wonderful tradition and our culture.
Los Angeles, CA (PRWEB) November 11, 2011
Now in its seventh season, the Al Borde "Day of the Dead Music and Art Festival" greeted over 700 attendees with music, food, art and dance. The free community event was presented by the Latin Alternative media outlet and Ford of Southern California Dealerships, and took place at El Gallo Plaza, a former mortuary turned coffee shop that sits on East Los Angeles' historic Cesar Chavez Avenue.
Community locals, musicians, photographers, and art enthusiasts were predominant among the crowd who were driven to Al Borde's event, highly anticipating the featured live performance by Venezuelan DJ/Producer Mr. Pauer and Mexico City's El Conjunto Nueva Ola (ECNO). Mr. Pauer and ECNO are music innovators who have been face-lifting traditional Latin rhythms by fusing them with the beats of electronica and rock & roll.
The event also presented its traditional Day of the Dead-themed altar and art contest, which encourages and supports local artists by providing a platform for them to showcase their work. "It was a great experience to see young and old, Latinos and non-Latinos come together to celebrate this wonderful tradition and our culture," stated Jaime Lara, winner of the event's altar contest who was awarded a $100 gift card. Supporting sponsor Wells Fargo also joined the effort by awarding Central Valley High School's art program with a monetary contribution.
Aside from celebrating with art and dance, entire families that attended the event were also stimulated with numerous interactive stations including a children's coloring contest and photo booth area presented by Wells Fargo, a phone display where attendees tested the latest mobile releases from Verizon Wireless, and a car demonstration from Ford of Southern California Dealerships, where attendees were able to sit-in on a displayed Ford Fiesta.
The presenting sponsors of Al Borde's cultural celebration were Ford of Southern California Dealerships and parent company El Clasificado. Supporting sponsors were Wells Fargo and Verizon Wireless.
The Día de los Muertos Music and Art Festival is an annual, cultural celebration presented by Al Borde, a premier Latin alternative media outlet reaching the 18- to 34-year-old Hispanic demographic. Al Borde is owned by EC Hispanic Media, and is a leading Latin Alternative multiplatform company that offers advertising opportunities through sponsored events, section sponsorships, street team promotions, web sites, and mobile services.
ABOUT EC HISPANIC MEDIA:
EC Hispanic Media is a Los Angeles based company with headquarters in Norwalk, California. Through its flagship print product, El Clasificado, EC Hispanic media reaches 1.5 million Hispanics on a weekly basis. Its footprint extends from the Central Valley of California to San Diego with a distribution of 470,000. In the last year, the distribution has grown at a neck breaking pace, and has recently expanded into the Fresno and the Bakersfield markets. EC Hispanic media also owns elclasificado.com which generates 6 million page views a month from across the United States. EC Hispanic Media's events division produces "Quinceañera Expo" which attracts 10,000 attendees annually, and the "Su Socio de Negocios" small business workshop series. EC Hispanic Media also reaches the bilingual Hispanic via its online property alborde.com and its "Día de los Muertos" event in November.
CONTACT: For media interviews or b-roll of the event please contact Gabriela Alvarado, Public Relations Assistant, at 1-800-450-5852 or via e-mail at mediarelations(at)elclasificado(dot)com.
For marketing partnership opportunities, please contact Hugo Hernandez, Director of Marketing and Events, at 1-888-204-4591 or via e-mail at hugo.hernandez(at)elclasificado(dot)com 
MEDIA RESOURCES: AlBorde.com, Facebook,Twitter, YouTube, MySpace.
###