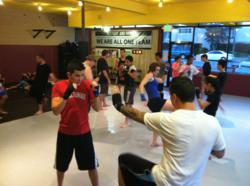 "Training MMA is a fun way to get in shape and stay in shape." - Rudy Fischmann
Montrose/La Crescenta, CA (PRWEB) November 10, 2011
Most people associate Mixed Martial arts training with the tough bruisers they see in fighting organizations like the UFC, but one local gym has taken a new and unique approach that makes it fun and safe for every member of the family.
On Friday, November 11th Fox Network Morning Show, "Good Day LA" will be spotlighting the workouts provided by local fitness facility M3 Fight and Fitness.
M3 Fight and Fitness, home of the 30 Day Free Trial, believes that everyone, man, woman and child, can benefit from training Mixed Martial Arts! The same workouts and martial arts that UFC Fighters use in the cage can be found at M3 Fight and Fitness.
MMA expert, Rudy Fischmann is the head instructor of M3 Fight and Fitness. He has been training martial arts for over 10 years and is a Black Belt in Brazilian Jiu-Jitsu and a seasoned athlete in wrestling, judo, kickboxing, and boxing. Rudy believes that MMA is for everyone, from the bashful child, to the rambunctious athlete, from the collegiate wrestler to the Average Joe and has established a training program that works for everyone.
M3 Fight and Fitness provides a fun, challenging work out that is tailored to meet the needs of the client, using MMA as the means to provide the workout. The instructors are personable and accomplished athletes, all focused on the mission to ensure everyone has a great time learning their skill. So much so, that the mission statement of M3 Fight and Fitness is clearly displayed in the 4,000 sq. foot facility and reads "Whether your mission is to be a champion or just to improve yourself…We are all one team…Working together to reach our goals."
When asked, about who would benefit most from training MMA, Rudy replied, "Everyone! Training MMA (mixed martial arts) is a fun way to get in shape and stay in shape. It is a great stress-reliever, confidence booster, and…well it's just fun!"
If you'd like more information about M3 Fight and Fitness, or training MMA please visit http://www.m3fight.com or call 818.564.7839
###