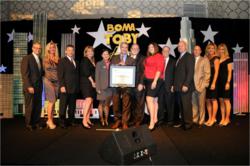 Typically, we help other people with their building projects, so it was an honor to show off our building through the TOBY awards.
Los Angeles, CA (PRWEB) November 15, 2011
In the only competition in the Los Angeles area that honors outstanding commercial office buildings and excellence in building management, Har-Bro's corporate headquarters was recently awarded "The Outstanding Building of the Year® (TOBY)" in the Corporate Facility category by the Building Owners and Managers Association of Greater Los Angeles (BOMA/GLA). Har-Bro is an emergency services and restoration company with offices throughout the West coast.
Located at 2750 Signal Parkway in Signal Hill, the concrete, tilt-up style building, with 26,000 square feet, encompasses the company's Long Beach branch office and Har-Bro corporate headquarters. The building, highlighted by a two-story atrium with massive skylights allowing abundant natural light as well as an interior rock and water garden, was built in 1973 and purchased and renovated by the company in 1997.
"Typically, we help other people with their building projects, so it was an honor to show off our building through the TOBY awards," said John Temoyan, regional director of business development for Har-Bro. "When we purchased the building in 1997, it had all of the '70s look and feel, with dark wood and the color palette of that decade, so we're very proud to have made it what it is today," said Jim Franklin, Har-Bro President.
In the Corporate TOBY category, all nominees are required to occupy at least half of the building that is nominated; Har-Bro occupies all of its award-winning building. The awards process consists of an initial nomination followed by a site visit, inspection and most importantly a scoring process.
"We were absolutely thrilled to be the first vendor to win this award. This is a beautiful building, which we are proud to have owned for a long time," said Christina Winstead, senior account manager for Har-Bro.
The 26th Annual TOBY Awards were held on Oct. 26 at the J.W. Marriott Los Angeles at L.A. Live. Almost 600 BOMA-GLA members, guests and friends attended the events to celebrate the accomplishments of some of the most remarkable commercial properties and recent developments in the Los Angeles area.
The Har-Bro corporate and Long Beach branch building is owned by Har-Bro and managed by Har-Bro President Jim Franklin, Vice President Tom Henley and CFO Karen Kaplan.
About the TOBY Awards
The Outstanding Building of the Year "TOBY" Awards Program has been identified as the most prestigious of its kind in the commercial real estate industry. It recognizes quality and awards excellence in the daily management of the office buildings. The local winners may advance and must win at the regional level to advance to international. For more information, please visit http://www.boma.org/getinvolved/Awards/Pages/default.aspx
About Har-Bro
Har-Bro is a full-service mitigation, restoration and reconstruction provider for properties damaged by water, fire, flood and other disasters. Leading the industry since 1961, Har-Bro has offices in Arizona, California, Nevada, Oregon and Washington. For more information on handling property damages or to learn more about Har-Bro, please visit http://www.harbro.com or call (800) 266-5677.
# # #