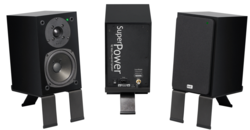 SuperPower's DNA originates from two of NHT's most beloved speakers
Benicia, CA (PRWEB) November 11, 2011
NHT today announced that it will soon ship SuperPower [$199 each]: a compact, self-amplified, high end mini-speaker powerhouse designed to deliver high performance sound from any of today's digitally connected devices, from smartphones and portable media players to tablets, video games, electronic musical instruments, home entertainment systems, and of course, desktop and laptop computers.
Instead of starting from scratch, NHT looked for design inspiration from its highly acclaimed SuperZero 2.0 -- an overachieving passive mini-speaker -- and the professional series M-00 (a/k/a, the "moo"), which is a rugged 75W powered mini-monitor commonly found in top-notch recording studios.
Similar to its predecessors, the SuperPower's acoustics section includes NHT's time-tested mini-monitor driver complement, featuring a 4.5-inch long-throw woofer and 1-inch silk dome tweeter. The drivers are acoustically suspended in a sealed box that is immediately recognizable for NHT's trademark high-gloss, black laminate finish.
The rest of the SuperPower's magic can be found under the hood: each speaker features its own ultra-low distortion 90W power amplifier that boasts over 90% efficiency and in standby mode uses less electricity than a D cell battery. The amplifier is mated with a custom designed pre-amp circuit that shapes the speakers' response for both bass extension (to 72Hz) additional SPL (over 111dB @1 Meter!)
"SuperPower's DNA originates from two of NHT's most beloved speakers – the SuperZero and the NHT Professional M-00 active mini-monitor. That's really where the story begins," said NHT partner and marketing/sales executive John Johnsen. "As such, it really represents the best of both worlds, combining our knowledge and experience in the powered monitor arena with our passion for packing incredible high-end sound into a compact, affordable package"
Added Johnsen: "Our goal wasn't to build a better pair of powered speakers, it was to make an integrated system as good as the best receiver/bookshelf speaker packages – and it embarrasses most of them."
Super Support for SuperPower Speakers
NHT is simultaneously introducing the SuperPower DeskStand [$59.00 pair] to accompany the SuperPower. Sold separately, the 10-gauge carbon steel formed DeskStand is designed to isolate the speaker from the surface on which it rests, opening up the midrange vocals to deliver an expansive, more realistic soundfield.
And, for those listeners who long for the additional bass and dynamics of a full-range system usually associated with tower speakers, it is no surprise that the SuperPower mates exactly with NHT's Super 8 subwoofer [$299 when purchased with SuperPower pair], the same compact, ultra-efficient 110W sub that fans of the SuperZero 2.0 undoubtedly already know and love.
Precision Control Without Unwelcome Effects
Rounding out NHT's ultimate desktop system supplies is the company's PVC PC [$99] – a passive volume control interface that puts a simple, reference caliber volume knob at the user's fingertips, and in the process isolates any computer-generated noise from the speakers. In addition, the PVC helps reduce the unwelcome sonic effects of software-based volume "dithering" effects and makes the addition of a Super 8 subwoofer even simpler. Add a pair of DeskStands, and a Super 8 sub, "…and it takes your sound from serious to somewhere just past ridiculous," said Johnsen.
"This isn't the last word on powered speakers or personal audio from NHT," added Johnsen. "Rather it's a starting point -- an opening salvo to establish a benchmark for future products.
"The key to the SuperPower's beauty is its self-contained simplicity. We focused on performance – our strong suit -- rather than get distracted with wireless protocols, docks or other features that actually lessen compatibility with the majority of sources."
About NHT
Since it was founded in 1986, NHT® (http://www.nhthifi.com) continually challenges the notion that the high-end means high-price. NHT takes pride in designing, manufacturing and marketing loudspeaker systems that provide a lifetime of listening pleasure. Its products from past to present speak volumes of NHT's dedication to sonic excellence. For NHT media inquiries, including interviews, product images and loans, contact: Adam Sohmer, SOHMER ASSOCIATES, 347-497-4965, adam(at)sohmerassoc(dot)com.
###