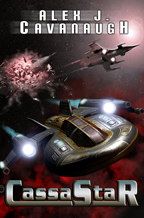 Pikeville, NC (PRWEB) November 11, 2011
CassaStar, the debut novel by Alex J. Cavanaugh, has spent the last two months on Amazon's Kindle Bestseller chart. However, this book isn't a new release. CassaStar debuted to great reviews and modest sales on October 19, 2010.
Publishers tend to experience their highest sales in the first three months of a book's release. However, Dancing Lemur Press, L.L.C., continued to promote CassaStar long after its release. Author Cavanaugh also continued to network and promote through his blog and online social contacts. In September of this year, CassaStar soared onto Amazon's Science Fiction Bestseller list and it has continued its hold in the top twenty.
The growth in the eBook market, coupled with the title's $2.99 price tag, played a big part in the sales boost. Readers seeking a new author are willing to take a chance on a reasonably priced eBook. And with the Kindle Fire hitting the market, even more readers will be looking for new material.
CassaStar's success coincides with the release of a book trailer for the sequel, CassaFire. Due out February 28, 2012, the sequel is now poised to generate ten times the amount of sales as the first book. Cavanaugh has already set virtual tour dates and a Catch Fire! Blog party is planned for release day.
CassaStar is available in print and all eBook formats. Trade paperback $15.95 ISBN 978-0-9816210-6-7, eBook $2.99 ISBN 978-0-9827139-3-8 Review copies for CassaFire are available upon request http://www.DancingLemurPress.com Author Alex J. Cavanaugh's website is http://alexjcavanaugh.blogspot.com/
###