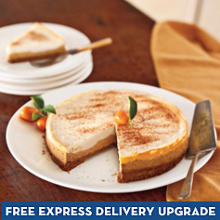 Replace kitchen-time with family time with Harry and David's specialty Thanksgiving gifts and gourmet meats!
Medford, Oregon (PRWEB) November 11, 2011
Harry & David, America's gift experts for over 75 years, is celebrating this holiday season with specialty Thanksgiving gifts, including gourmet meats, entrees, pies, and more.
Replace kitchen-time with family time with Harry and David's specialty Thanksgiving gifts and gourmet meats! Make hosting simple and impress guests by trying our fully-cooked, oven-roasted turkey. No antibiotics. No growth hormones. No feed additives. It's just mouth-watering, simply seasoned turkey. Taste the difference of all-natural gourmet meat today, and make our oven-roasted turkey your Thanksgiving centerpiece.
Give thanks to loved ones, even when seeing them isn't an option. Our delicious spiral-sliced ham and turkey sampler will ensure that family and friends have a variety of delicious, natural gourmet meat at the dinner table. Moist and perfectly coated in a mildly sweet brown glaze, this meat sampler is just as delicious as Mom's cooking. Send Harry and David's Thanksgiving gifts to friends and family from nearby or from far away.
Why spend the holidays stuck in the kitchen? Save time with Harry & David's Thanksgiving gifts, and spend more time with the people who matter most. Gather around the dinner table this Thanksgiving and try our award-winning pies. Our new turkey pot pie is stuffed full of turkey, vegetables, sweet potatoes, dried cranberries, traditional gravy, and topped off with a crouton crust. For dessert, try our delicious, award-winning pumpkin pie cheesecake. Friends and family will love this creamy, velvety dessert that's sure to be a hit at all holiday gatherings.
Remember to order all Thanksgiving gifts and gourmet meats before the shipping cut-off dates to ensure their timely arrival. The last day to order Thanksgiving gifts using regular shipping is November 16th; the last day for 3-day shipping is November 18th; the last day for 2-day express is November 21st and the last day for next day delivery is November 22nd.
All orders are backed by a 100% guarantee. If those who receive our gifts are not fully satisfied, Harry & David will provide either an appropriate replacement or a full refund. Visit our website for more information.
For the latest updates and news from Harry & David, join our Facebook fan page, http://www.facebook.com/HarryandDavid, or follow us on Twitter, http://twitter.com/harryanddavid.
Harry & David is a leading lifestyle and gourmet gift company that brings joy and celebration to the way people connect, work and play. With a 75-year reputation for genuine farm-to-table freshness and unsurpassed artisanal quality, Harry & David is legendary for products such as the Fruit-of-the-Month Club® gifts, featuring top-quality fruit, pampered on the tree, picked at its peak; Royal Riviera® Pears, prized for their lush juiciness, melting texture and exquisite flavor; Oregold® Peaches, the biggest, juiciest, sweetest-tasting peaches; and Moose Munch® gourmet caramel popcorn made exclusively in our own confectionery in flavors for everyone, from Milk Chocolate and White Chocolate Macadamia Nut to S'Mores. The Harry and David catalog offers a wide variety of gift baskets, organic fruit gifts, gourmet treats, chocolate gifts and business gifts for every occasion. Gifts from Harry & David, and its brands Cushman's and Wolferman's, are designed for festive occasions, entertaining and self enjoyment throughout the year. Through its stores, catalogs, websites and select retail partners, Harry & David offers an affordable "best-of-class" experience as part of everyday life. Happiness Delivered!
(Harry & David is a trademark, service mark and DBA of Harry and David)
###