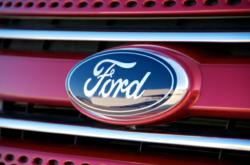 Burlington, NJ (PRWEB) November 11, 2011
Lucas Ford of Burlington, NJ is getting ready to have to slash prices in order to start wheeling and dealing for the upcoming year-end sales that are looming on the horizon. With plenty of inventory in stock to clear, this should translate to significant savings for consumers of both new and used automobiles. Ford has seen considerable success this year with many of its models being named on several prestigious "Best" lists, and this bodes well for the car-buying public the world over. Ford is known world wide as a leader in the automotive industry for high quality, longevity, and durability in its products. And they are always striving to not only set the bar to the next level in automotive excellence, but to jump right over the top of it in a constant effort to not only set itself apart from its competitors, but to leave them in the dust. And with the introduction of several new safety features such as SYNC with MyFord and BLIS along with SiriusXM with Travel Link, it would appear that they've been taking things pretty seriously. Lucas Ford knows this, and their 65-plus year relationship with Ford attests to it. This works out well for auto consumers looking for a new Ford in Burlington or a used Ford in Burlington.
Take the Ford Edge, for example, from Ford's Crossover line. The new Ford Edge is now available with BLIS with Cross Traffic Alert and the SYNC with MyFord Touch safety systems, the latest safety features in a growing trend toward keeping both drivers and passengers on the road a whole lot safer from accidents that are traditionally associated with operator error. Blind spot information system technology, or BLIS, alerts you to a vehicle in a blind spot zone with an indicator light in the rear view mirror. Cross Traffic Alert provides audible and visual signals of a vehicle approaching when you're slowly backing out of a parking spot or driveway. SYNC with MyFord Touch is available on most models and works in conjunction with Smart Phones to give you a safer driving experience while interacting with today's modern features available on most new phones. It offers hands-free calling and audible text messaging along with 911 assistance as well as driver assisted turn-by-turn directions, traffic alerts, business searches, and 411. It's also got entertainment options available such as voice-activated music, internet connectivity, and news, sports, and weather. This is all part of Ford's vehicle interaction revolution.
The Edge also comes with a host of other great safety features including a rear view cam, side curtain airbags, and includes not only a remote start system but a push button start. Also available is the SiriusXM Traffic with SiriusXM Travel Link, whose features include information on traffic speed and flow, traffic incidents and road closings, fuel prices and stations, National Weather information, sports scores and movie listings, and more. It's got a 111.2 wheelbase, V6 3.5L/213 engine with a 6 speed transmission, and is finely appointed with a plethora of other features making this a truly attractive buy.
When most folks hear the words "Built Ford Tough" the first thing that comes to mind is Ford's incredibly popular line of pickup trucks. The F-150 Series has been sold for over six decades and has been the most popular selling truck in the United States for 34 years running. That's an impressive record that not only can any other truck manufacturer not beat, but they can't even compete. These vehicles are a perfect example of the Ford legend. At Lucas Ford they've got new Ford trucks in Burlington and used Ford trucks in Burlington to choose from. Lucas encourages customers to come in and take a look around and test drive a vehicle of their liking to see how it feels and experience firsthand the superior drive and handling.
Lucas Ford also offers an online showroom from which to discover the tremendous inventory in stock at their dealership where customers can also apply for credit and find out in advance what they are pre-qualified for, saving time and hassle in advance. Lucas Ford of Burlington also has more than new and used Fords available. There are many different makes and models available on the lot for customers who are looking for used cars in Burlington. All of this amounts to one-stop-shopping at the Ford Dealer with more in Burlington, New Jersey, where customer satisfaction is paramount and Ford is # 1.
###