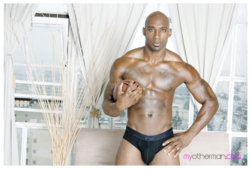 What your man won't do, My Other Man will.
Los Angeles, CA (PRWEB) November 11, 2011
Now is the moment many women have been waiting for, the official launch of http://www.myotherman.com. My Other Man is a place where women can take a moment to get away, feel empowered and in control. It is also a place of understanding into the heart, spirit and body (and there are plenty of sexy bodies) of Black men. My Other Man will make women feel good, appreciated and always respected.
Yes, My Other Man is a place for some of the sexiest images of black men you will ever lay your eyes on, but it is so much more….
Timon Kyle Durrett shares with the ladies a Celebrity Moment. The handsome hunk who plays "Quinn" on the VH1 hit series, "Single Ladies," talks about relationships, romance and sex. http://www.myotherman.com/celebrities.htm.
My Other Man weekly features include, My Other Manswers. Aaron Ashford, professional licensed therapist, discloses advice to women about men from a male perspective. He is honest yet sensitive with women who are open to some truths about their men.
Blue-collar worker, budding media personality and entrepreneur, Randy Ritchwood is on a demanding journey through life while striving towards his dreams. If women want to really know what it's like to be a black man in America, they can take a weekly peek into Randy's world by checking out Straight from the Wood: A Black Man's Journal. Both of these weekly features can be found at http://www.myotherman.com/weeklyfeatures.htm.
Moment For Her is an enriching experience for women with a focus on self. There is an old expression, "You can't be good for someone else, until you're good for you." Moment For Her offers a bi-weekly Book Club with open discussions about the hottest new novels.
The My Other Man site also cares about the financial welfare of women. Each week Optimum Financial Services offers advice on how to best handle money affairs in Love and Finance.
Fit For You provides weekly workout tips from celebrity trainer, J.R. Rogers, as seen on the reality series, "Kirstie Alley's The Big Life." Fit For You encourages women to stay fit for them.
Craig Holmes, The Black and Sexy Chef says, "the way to man's heart or into his pants, is through his stomach." Ladies will laugh and learn their way around the kitchen and into the bedroom.
Ladies will join hair expert, Affinity Stiles outside the salon with, It's All About The Hair. Affinity teaches women sexy and quick hairstyles to tease their men. Women can take a Moment for Her at http://www.myotherman.com/moment.htm.
And of course, there are the men. Each month, My Other Man puts the spotlight on two sexy able bodied gentlemen in My Other Man on the Move and Young and Tender for the Ladies. My Other Man on the Move is the perfect combination of brains and body. He has more going on in his life than just a handsome face. If a woman's favorite pick-up line is, "Hello little boy, would you like some of my candy?" Young and Tender for the Ladies just may me the thing for her. Women can check out the November 2011 men at http://www.myotherman.com/manofweek.htm.
In addition to all the great pictorials and features, My Other Man has a ladies only online community. This is My Other Man's internet answer to "ladies night out." Women can connect and share with their girls and invite new friends. Yes, women love their men but every now and then they just want a little "girl-time."
"What your man won't do, My Other Man will."
Send inquiries and talent submissions to info(at)myotherman(dot)com
###