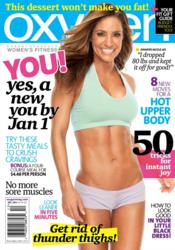 New York, New York (PRWEB) November 11, 2011
Jennifer Nicole Lee was just a fat and frumpy every day house wife with no goals and ambitions. She had her "a-ha" moment while sitting on the couch with her babies eating donuts and pizza, it it hit her that she wasn't fulfilled or happy. So instead of staring a love affair with food, she did it with fitness. Fast forwarding a few years later, she is now known by JNL to her millions of "fitness friends" around the world, is a highly sought after fitness expert, a best-selling author, and a super fitness model, celebrating her 45th cover with the December 2011 Oxygen magazine issue.
She is the sexy CEO of JNL Worldwide, Inc, a BSN Athlete, the creative genius behind her "Fitness Model Factory" full production studio, as well as the creator of the hottest fitness exercise method to hit the market, called JNL Fusion. With a passion for fashion, she also designs for her http://www.JNLClothing.com line, where her popular "JNL-isms" have caught the attention of the celebrity paparazzi circle with cute phrases such as "Strong is the new skinny" and "Kiss My Abs!"
When asked why she truly believes that "strong is the new skinny" JNL states "I don't equate a certain size with being healthy. You must have energy, stamina, and endurance to be truly in control of your body and your health. And also it all starts in the mind, and also it's about what you eat."
Speaking of food, her 3rd hard cover book is entitled "The Fun Fit Foodie", a clever fresh spin on healthy gourmet cooking for the everyday person who wants to be healthy but without all the boring bland foods that still leave you hungry. JNL states "my fun fit foodie philosophy, I believe food and being healthy is all about celebration, not deprivation". Her cookbook is also accompanied by a food show with episodes at http://www.TheFunFitFOodie.tv
This December 2011 Issue is one not to be missed, as also is features an intimate look into JNL's personal and family life as well, giving secrets to how she balances it all while running her global empire.
Other features in this not to miss issue are ones that cover how to build hot hamstrings, tone sexy triceps, plus [ten minutes to a better body.
To order a copy, visit http://www.shopmusclemag.com/product.asp?productid=2266
For more info on JNL, visit http://www.JenniferNicoleLee.com and Celebrity Facebook at http://www.JenniferNicoleLeeFB.com
# # #