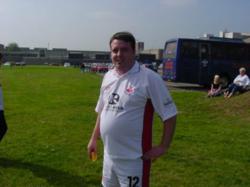 San Francisco, CA (PRWEB) November 17, 2011
RunningonJuice.com announces the immediate availability of a slim, easy to follow, but effective Juicing for Weight Loss Starter Guide. Based on blog founder Shane Whaley's own astonishing 70 pound weight loss, the 31-page guide and video is a proven road map to total body transformation. Once merely a sedentary statistic, Whaley now excels as a distance runner.
"Many people think that juicing is for alternative or 'new age' types of people. I am as far from that stereotype as you can get," says Whaley. "I work in the corporate world, but I believe juicing is the healthiest way to lose weight and use nature's fuel for optimum nutrition. Being 70lbs lighter has transformed my life in so many ways. I hope to share my strategies so that others can take the plunge and get out of the rut."
2 years ago, Shane would have laughed at the thought of running a half marathon. He couldn't even run for five minutes without having to stop for a break! Similar to Joe Cross from the documentary 'Fat, Sick and Nearly Dead'. He described himself as a "fat business guy" with "poor eating habits and a complete lack of exercise." He found his redemption by stumbling across a juicing book by Jason Vale. Whaley says, "My life instantly changed forever. In fact, I went on to shed 70 pounds, and burn six inches off of my waist." Not only did he start to look better, but he felt better and noticed an improvement in his health and his career. He landed a 'dream' transfer from Sweden to San Francisco and has been promoted twice. He puts this down to the extra energy levels that juicing and his weight loss has given him.
According to the Center for Disease Control and Prevention, about one-third of adults in the United States are obese, and it doesn't stop there. Obesity has been called a "global epidemic" by the World Health Organization, and the founder of RunningonJuice.com, Shane Whaley, has set out to do his part in the fight against this growing trend. He has recently made available a free starter guide for those interested in beginning an all natural, juicing diet. Along with the informative, 31 page guide, is a video that details his own weight loss journey, and some of the strategies that led to his inspirational success.
Whaley has kept the weight off ever since he began his juicing habit, and he is now a running enthusiast. He has participated in two half marathons, and his career has skyrocketed. He created his blog, RunningonJuice, to help support those who want to start running, those who want to lose weight through juicing, and those who want to participate in a more healthy diet through juicing. The free starter guide includes his favorite recipes, resources and tips. Interested parties can find the starter guide, and his free video, on his blog, at http://www.runningonjuice.com.
Contact:
Shane Whaley
Runningonjuice(at)gmail(dot)com
Before and After Photos can be viewed at http://www.runningonjuice.com/about/
###