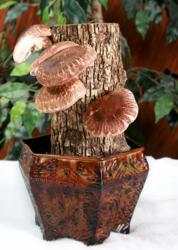 "Log-grown shiitakes are beautiful and they deserve a beautiful setting. We are thrilled to crown the Queen Anne Kit as our loveliest contribution to the holiday gift season."
Perkins, OK (PRWEB) November 15, 2011
Bring out the bugles, the tubas, the drums! This week Lost Creek Mushroom Farm parades its newest shiitake mushroom log kit, the Queen Anne.
Dr. Sandra Williams, the Queen Anne's designer, and owner of Lost Creek Mushroom Farm (known as The Mushroom Lady), announced, "Queen Anne begins her reign just in time for the holidays."
"We've been making kits since 1993 and we cultivated a simple, natural style, embodying country living: bare-bark 10-inch logs, our Ma & Pa Kits, and our 'coffee table conversation piece,' the little 6-inch 'Shroomie. For over a year I searched for a shiitake kit that had elegance and grace."
According to the Mushroom Lady, most people have never seen shiitakes as they grow on fallen branches in the forest or as they are grown on hardwood logs. "They are a chocolaty brown with white, feathery stars around the rim and the gills are pure white and smooth. They are beautiful and they deserve a beautiful setting."
Shiitakes live in light, as plants do. "The Queen Anne is a large, 12-inch log in a lovely, embossed-metal encasement that makes owning a shiitake log a bit like owning one-of-a-kind artwork." The vase is burnished bronze and gold. "Graceful in shape and dynamic in the play of colors."
Like all of Lost Creek Mushroom Farm's log kits, the Queen Anne will grow shiitakes about every two months for 3-5 years. The kit includes a ready-to-fruit hardwood log, such as oak or sweet gum, the Queen Anne vase, instructions, and recipes. The log is guaranteed to produce.
How does a shiitake log work and what kind of care does it need?
"It needs air at about room temperature, light and water," Sandra explained. "Soaking the log in ice water for 24 hours (or refrigerating it), triggers the fruiting cycle. In 6-10 days you can harvest your own high-quality, naturally organic shiitake mushrooms." At first the crop is small, and then production increases as the log matures. In the second and third years the log can be covered with shiitakes. "After it 'fruits,' you let it rest for two months, soaking every two weeks in room-temperature, non-chlorinated water. Using the water to digest the wood, the shiitake multiplies inside the log, getting bigger and giving larger harvests."
The Queen Anne Shiitake Log Kit sells for $48, including shipping. The Shiitake Sampler Cookbook by Janet Bratkovich with 51 shiitake recipes ($8), makes it an even more impressive gift for $56. The Queen Anne is available directly from Lost Creek Mushroom Farm: online at http://www.shiitakemushroomlog.com, by phone at 1-800-792-0053, or by mail to Lost Creek Mushroom Farm, PO Box 520, Perkins, OK 74059.
Ordering for Christmas and Hanukah is open now. The Mushroom Lady strongly urges ordering early and scheduling arrival time during the holidays. "The logs are living organisms and can't be left in the box for more than a few weeks without air, light and water, so we prefer to ship to arrive the week of the holiday. Customers can specify any delivery date they want."
The single 10" log kit, Ma & Pa Kit, shiitake gift baskets, and more products from Lost Creek Mushroom Farm are also available on Amazon.com. "Early ordering is the way to guarantee delivery. Unfortunately, Amazon.com does not have a way to delay shipping for timely holiday delivery, and we are not listing the Queen Anne at this time." Amazon.com offers a 30-day window for scheduling, so beginning November 22, customers can use the scheduled shipping option for Christmas and Hanukah gifts. Prices are slightly higher on Amazon.com than at http://www.shiitakemushroomlog.com.
###