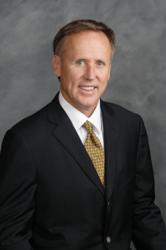 "In addition to being the top brand, Marriott International will create new jobs within Goleta, while providing an excellent hotel for the business and leisure community," said Olson.
Irvine, Calif. (PRWEB) November 16, 2011
The joint venture team of R.D. Olson Development and Wynmark Company announced that what was once slated to be named the Camino Real Hotel, an independent hotel in Goleta, Calif., will open as the Courtyard by Marriott. This will be the first Marriott to be built in Goleta. The announcement was made at its recent groundbreaking at which the new hotel owners were joined by Goleta Mayor Margaret Connell and other city officials. The hotel is located at 401 Storke Rd.
"We choose the Marriott brand because we consider it to be best in the business, given it offers the industry's most popular travel rewards program and has a following of customers," said Robert Olson, CEO, R.D. Olson Development.
The Courtyard by Marriott is ideally situated one mile from the University of California, Santa Barbara; Santa Barbara Airport; Camino Real Marketplace; and Pacific Ocean. It sits upon 3.02 acres of prime real estate southwest of the Goleta Technology Park. Here, some of the country's largest industrial and high-tech corporations are based--80 of which are research and development.
"The prospect of a new hotel being built to house visitors of students, faculty and nearby businesses is receiving a warm welcome," said Olson.
The Courtyard by Marriott in Goleta is a $28 million venture designed to bode well with the community. It will showcase local photographic art depicting the city, which reflects the local culture and history. The Mediterranean-style 68,000 square foot hotel will feature 106 rooms, including nine suites that will have two separate rooms. Fifty percent of these will have double queen beds to accommodate families visiting students and faculty of University of California, Santa Barbara. Each guest room will have Internet access via WiFi, flat-screen televisions, microwave ovens and efficient workspace where guests may conduct business. As a welcomed bonus for Goleta's growing business community, the hotel will include 1,300 square feet of meeting space. The hotel's restaurant, The Bistro, was smartly designed to afford guests a choice in food and service style, from grab-n-go to quick service dining for its guests. Guests will enjoy numerous restaurants at the Camino Real Marketplace shopping center next door to the new hotel.
The Courtyard by Marriott lobby will fuse high-tech, high style and maximum functionality. It is designed to generate a connection with guests, with welcome pedestals replacing the front desk for a more inviting, warm reception. An innovative and interactive GoBoard will display news, weather, traffic, local restaurants and documents, while semi-enclosed media pods featuring individually controlled flat-panel televisions will offer a place to work, meet or relax.
An outdoor terrace is planned to extend from the lobby. Here, a welcoming fire pit will lend itself to social gatherings and conversation. The hotel also will feature such resort-style amenities as a fitness room, large outdoor pool, putting green and spa.
Lee and Sakahara Architects of Irvine, Calif. is credited for the architectural design and Kling/Barta Design, LLC of Shawnee Mission, Kansas for its interior.
R.D. Olson Construction, also founded by Robert Olson, was awarded the contract to build the Courtyard by Marriott in Goleta. The construction company recently wrapped up work on the Courtyard by Marriott in Oceanside—another R.D. Olson Development endeavor that opened November 9.
About R.D. Olson Development
Robert Olson founded R.D. Olson Development in 1998, which has since gained standing as a leading hotel developer. Projects underway include the Courtyard by Marriott Maui, the first Kahului airport hotel; Courtyard by Marriott in Oceanside; and Residence Inn by Marriott in San Juan Capistrano, representing the first hotel built in the city in nearly 20 years. Other California developments the company has to its credit include a Marriott Renaissance ClubSport in Aliso Viejo, Calif.--a combined 174-room full-service Marriott Renaissance Hotel brand and 70,000-square-foot world-class fitness center, and a five-story 166-room Residence Inn by Marriott in Burbank, Calif. that caters to the entertainment industry. More information on the company may be found at http://rdodevelopment.com.
About Wynmark Company
Located in Santa Barbara, California, Wynmark is a planning and development company dedicated to undertaking unique projects, which satisfy needs within the local community. Since its inception in 1993, Wynmark has planned, permitted and built a diverse portfolio of projects in the Santa Barbara area and beyond that include an 80,000-square-foot office building, the largest regional shopping in Santa Barbara comprising over 500,000 square feet, a $70 million 369 unit senior living campus, a 9 lot high-end residential development, and a 25-acre community park. Additional projects include a Costco anchored shopping center in Las Vegas, Nevada.
###