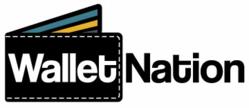 We offer the widest selection and the highest quality of wallets available from around the globe. Every man who visits WalletNation.com will be able to find the perfect wallet for him. - Brad Howard, Founder.
Las Vegas, NV (PRWEB) November 11, 2011
TrendNation just announced the launch of their WalletNation.com online retail store. The WalletNation brand premiered with rave reviews at the 2011 Las Vegas MAGIC trade show - where the most sought after global brands in men's fashion, apparel and accessories are exhibited to buyers. Dozens of premier brands jumped at the opportunity to participate in what is soon to be the largest men's wallet selection on the planet.
Recognizing the growing sales of wallets at CuffCrazy.com, one of TrendNation's most successful e-commerce properties, they decided to expand their selection of men's wallets and build a customer-friendly site focused on carrying the best men's wallet brands at great prices. Focused exclusively on wallets, WalletNation.com specializes in all kinds of wallets - including RFID-blocking wallets and wallets made from unique materials, such as rubber, TYVEK, stainless steel, Kevlar, nylon, alligator and, of course - leather.
President and Founder, Brad Howard says "It's hard for a man to find a great wallet at a department store because the selection is usually very limited. We knew if we offered the largest selection of men's wallets on the planet, with affordable prices and outstanding customer service, our audience would see value."
WalletNation.com carries over 40 of the top men's wallet brands and 500 different wallets in dozens of color, style, and material combinations. Already featuring exclusive, luxury and popular brands – like Tumi, Joseph Aboud, Ben Sherman, Tommy Hilfiger, Levi's, Nike, Ike Behar, Trafalgar, Robert Graham, Dosh, and Ted Baker – in addition to lesser known boutique brands – all for much lower prices than local retailers and smaller vendors can sell them for. By May of 2012 WalletNation.com is preparing to cross over the 1,000 wallet milestone, solidifying itself as the leading destination for men's wallets.
Along with a growing trend of fashion designers getting into creating men's accessories, even the construction of wallets has evolved – providing men with many more choices than they've ever had before. Advances in design and materials go beyond forms, colors and construction. With security of our personal information becoming a growing concern in recent years, the invention of RFID (radio-frequency identification) blocking technology has been introduced in many new wallets to protect us from electronic theft. Leading wallet brands in RFID blocking technology are Stewart Stand and Rogue Wallet and are carried at WalletNation.com.
Brad Howard says, "A man's wallet is an expression of his tastes and personality. That's why we offer the widest selection and the highest quality of wallets available from around the globe. Every man who visits WalletNation.com will be able to find the perfect wallet for him. This is what sets WalletNation.com apart."
Brad knows that busy men like him don't have time to drop into one retail store after another looking for the formal, business and casual accessories they need. WalletNation.com and CuffCrazy.com make shopping fast, easy and convenient for a man, or a woman shopping for a man. WalletNation.com customers can easily find what they are looking for, check out securely and WalletNation's customer satisfaction guarantee makes shopping online simple and stress-free – just the way men prefer to shop.
About TrendNation
Trend Nation, LLC, is an e-commerce incubator specializing in niche online accessories. Based in Las Vegas, NV, Trend Nation currently has investments in numerous companies across several industries. Unlike many investment firms, Trend Nation will not only make investments in businesses it will also start businesses from scratch using its proven "demand focused" approach. Each new company that's started has a defined niche and target segment that's supported by its own website & distribution strategy. Current investment include: Cuffcrazy.com, Crystalcase.com, ReusableRevolution.com & WalletNation.com.
*Shipping is free for US domestic orders over $30.
All product and company names herein may be trademarks of their respective owners.
###