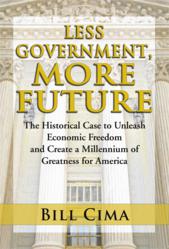 Over-regulation is a formula for economic disaster.
San Diego, CA (PRWEB) November 15, 2011
With Obamacare and the Dodd-Frank Financial Reform Bill drawing the ire of Republicans as impediments to job creation, the debate over the economic impact of regulation rages on. Bill Cima's new book,"Less Government, More Future," maintains that once regulation proceeds beyond the point necessary to maintain freedom in the marketplace, it negatively impacts the nation's economic vitality.
As Cima notes, the left chastises companies for sending jobs overseas while simultaneously supporting over-regulation, driving up the cost of doing business and making overseas manufacturing more attractive to management. However, there are far greater consequences to a nation from regulation than just that one aspect. Regulation reduces competition and technological advancement, forms barriers to entry and squanders the wealth of its citizenry, all of which erode the fundamentals of an economy.
Drawing on numerous examples in "Less Government, More Future" from tariffs and anti-trust regulation to rent control and fuel efficiency standards, Bill Cima shows that the cost of over-regulation to an economy is enormous. For large companies, regulation is a two edged sword, both helping them compete against their smaller domestic competitors, yet hurting their long-term international viability. Regulation has the effect of erecting both entry and survival barriers, increasing the difficulty of both entering a business sector and of surviving once in that business sector. These barriers can be overcome by larger companies with far greater ease than their smaller competitors, since the cost of regulation bears disproportionately on small businesses and can be quite severe in its impact.
In this sense, Cima sees regulation as advantageous to large companies, as it oftentimes enables them to rid themselves of their fiercest competitors, the small, more nimble companies. If mega companies can eliminate their pesky diminutive competitors, they gain a measure of security. For this reason, large companies sometimes support or do not even fight regulation. For example, the Consumer Product Safety Act of 2008 was supported by the major toy manufactures; Phillip Morris supported tobacco regulation in 2009; and the major meat packing firms actually asked to be regulated, initiating that movement near the turn of the 20th century.
Oftentimes the effect of a century-long accumulation of regulation is unnoticeable, as each incremental increase establishes a new norm and is quickly assimilated into the mundane realities of life. Therefore, to gain an understanding of the full impact of regulations, it is more instructive to view deregulation, which usually is a change of far greater proportion over a shorter time span and is, therefore, more apparent.
Bill Cima presents the airline industry as a lucid example of how regulation and deregulation can affect an industry. When examining the aftermath of the 1978 Airline Deregulation Act, it is easy to see why large companies might want to be regulated. During regulation, several major airlines controlled the skies, routes, time slots and gates. They had the right to make a profit and set their fares accordingly. Without the realistic threat of competition from smaller companies, the larger companies ballooned into bureaucratic behemoths, with the fares they charged compensating for their unnecessary, over-sized bureaucracies.
Then came deregulation (actually, partial deregulation). Almost overnight, regional airlines materialized across the country. The fares these start-ups offered undercut the traditional, established airlines and forced them to adjust fares and operate more efficiently. The effect of airline deregulation has been so dramatic that today, more than 30 years later, it is still possible to purchase a coast-to-coast ticket at a price less that that charged prior to deregulation, and that does not even take into account the fact that the dollar is worth today only 30 percent of what it was then. In fact, since 1978, airfares have fallen 45% in real terms, according to the Air Transport Association.
The benefit to our nation of airline deregulation goes well beyond simply paying less for fares, as Bill Cima details in "Less Government, More Future." The wealth of all Americans has been increased by airline deregulation, because a reduction in the price of a product or service enables that same amount of money to be spread over more acquisitions. When the same expenditure can purchase more goods, not only has consumer wealth increased, but also upward pressure is applied on the GDP rate of growth, providing more jobs, opportunity and wealth.
Overall, Bill Cima's book shows that the insidious aspect of over-regulating, that is, regulation which proceeds beyond the point necessary to maintain freedom in the marketplace, is that it exerts a long term drag on the economy. Deregulating back to minimal levels forces companies to operate more efficiently, to find a way to compete more effectively, to produce better products, to innovate technologically and, in short, to pursue excellence. Regulation relieves companies of much of this burden by reducing competition. Unfortunately, since we have a global economy, some of our international competitors who are not subject to the extreme regulation U.S. companies must endure, can gain an advantage. Regulation, then, is a formula for America's companies to fall behind and ultimately produce inferior products, leading the left to clamor for tariffs to "avoid sending jobs overseas", which hurts our economy even more. But that is another matter.
"Less Government, More Future" is available in hard cover or ebook versions at:
http://www.lessgovernmentmorefuture.com
# # #