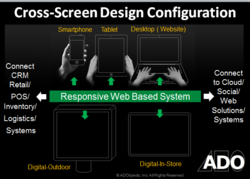 In many ways the mobile marketing is taken care of through existing online SEO (Search Engine Optimization) and SMO (Social Media Optimization strategies). Any campaign you run through any channel should have all views
New York, NY (PRWEB) November 11, 2011
Today, ADObjects, Inc (ADO), a leading cross-media mobile strategic consultancy and agency (http://adobjects-inc.com), announced its New York City organization, ADOcrossmedia to deliver cross-media web innovation, user experience design and integrated advertising for brand, agency and publisher clients specifically around mobile full-service responsive web design. Responsive web design had become an industry term since it was first coined by Ethan Marcotte in his articles around adaptive website design/ fluid grid design as a solution in 2010.
According to Nielsen MarketSight, by the end of 2011 there will 50% of users in the US on Smartphones with browsers capable of accessing desktop web sites. As a majority of websites have not been optimized for mobile, ADO will be bringing a very cost effective way to extend existing websites with advertising to have multiple views (Tablet, Mobile, and Digital Signage) on the same hosted platform. One example of a recent website that was extended to include mobile by ADO is LGFashionWeek ( http://lgfashionweek.ca).
"We wanted to share our vision on 11.11.11 since we believe a critical part of the right digital strategy is to build a cross-media mobile strategy with complete 1-to-1 parity multi-screen design. With one recent client we were able to see 4x more traffic and 30% of the traffic to mobile via responsive design methods due to search and social link matching over conventional mobile web platforms", said Matthew Snyder, CEO, ADObjects, Inc. "In many ways the mobile marketing is taken care of through existing online SEO (Search Engine Optimization) and SMO (Social Media Optimization strategies). Any campaign you run through any channel should have all views".
ADO is looking to serve Interactive web studios, Agencies, Brands, Publishers and aggregators (Ad Networks and Publisher Networks). The solution is perfect for affiliate networks that want to give their clients additional revenue and leads by offering mobilization services for both publisher and the advertisers. The scope of ADO will include multi-screen deployment, eCommerce sites, landing pages, web-apps, advertising and social media html5 applications. In addition, ADO is planning on bringing to market some innovative responsive ad solutions (ads units that adapt to the screen size) for their clients in 2012.
For more information or to request a quote to get your existing website mobile with a Responsive View, visit http://adobjects-inc.com
About ADO
ADO (ADObjects, Inc.) is a cross-media mobile agency and end-to-end solution provider focusing on consulting, strategy and accelerated revenue generating solutions for its clients. Headquartered in Vancouver, BC with presence in New York and Tokyo, Japan, ADO has been doing a combination of cross-border, go-to-market strategy work, and partnering and creative user-interface design in order to serve the best in class-solutions and mobile strategies for its clients.
ADO is the producer of MXM:MediaCrossMedia ( http://mediacrossmedia.com) a periodic New York City evening educational series focused on the convergence of mobile and the different media | vertical channels.
ADO also is an investor, patent owner and a founder of Mobify and an advisor to multiple start-ups in the media industry.
For further information please contact
info(at)adostrategies(dot)com
###