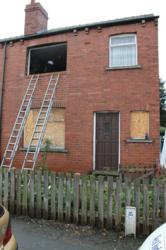 (PRWEB) November 13, 2011
West Yorkshire Windows, Conservatory Outlet and Custom Glass collectively came to the rescue of a 91-year-old man who had been without windows in the front of his house for almost two years.
The man's house in Wakefield, West Yorkshire, had been subject to continued vandalism by youths from the area in recent years. When the single glazed windows at the front of the house were smashed in 2010, the local victim support charity were only able to board the windows up, leaving the living room, main bedroom and bathroom with no natural light.
Following further vandalism at the property earlier this year, PC Chris Schofield of West Yorkshire Police, decided to go beyond the call of duty by appealing to local businesses that could potentially help to repair the victim's home and improve the quality of his life.
'It seemed that the young people in the area thought it was ok to vandalise the property because it already looked in such a poor state – I felt that a new set of windows would go a long way towards preventing repeat vandalism, as well as vastly improving the living conditions for the owner,' said PC Schofield.
Wakefield-based West Yorkshire Windows was PC Shofield's first port of call and the conservatories company showed no hesitation in offering its support by agreeing to supply and install double glazing completely free of charge.
As a member of the Conservatory Outlet network of dealers, West Yorkshire Windows enjoys a close relationship with its main supplier and after hearing about these exceptional circumstances, Conservatory Outlet opted to manufacture and supply the frames at no cost. This generosity was matched by West Yorkshire Windows' glass supplier, Custom Glass, who also donated the double glazed units.
Needless to say West Yorkshire Windows – shortlisted for the G11 Installer of the Year Award - covered the installation of the casement windows and even finished the job with a new pair of curtains in time for when the elderly man returned to his home, after a period in respite care.
Jo-ann Bowles, sales manager at West Yorkshire Windows, said; 'As a well-known and successful company, we found ourselves in a position to make a really big difference to a local man's life and to reward the genuinely extraordinary work of PC Schofield - we simply couldn't say no. A big thank you must also go to Conservatory Outlet and Custom Glass for contributing to this cause.'
A close friend of the elderly man who oversaw the installation praised West Yorkshire Police, PC Schofield and triple glazing specialists West Yorkshire Windows for their efforts.
###