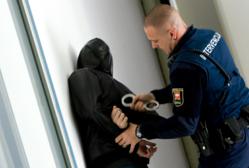 Burglars are even discouraged by signs that a security company is protecting the object.
Ljubljana, Slovenia (Europe) (PRWEB) November 14, 2011
Official police data show that in the first half of 2011, the number of burglaries in Slovenia has increased by 6.3 per cent – from 6.888 to 7.320, compared to the first half of 2010. In the same time the proportion of investigated acts has decreased.
Burglars prey on poorly secured objects
Security professionals of the country's largest private security company Sintal are stressing that burglars mostly attack poorly secured objects where they expect to intrude and alienate worthy items in minimal time. Especially when talking about residential objects, burglars are even discouraged by signs that a security company is protecting the object. But that is not enough.
Most effective is a combination of mechanic and technical protection
"Experience shows that the most adequate form of protection is combination of mechanic and technical protection with alarm system," explain Sintal's professionals. Mechanic protection is prolonging the necessary time for the burglar to enter into the secured object, whereas the system of technical protection immediately sensors intruders and adequately informs about the event. The alarm system can be connected to security control center of the security company. The latter ensures professional intervening patrol in case of alarm.
Sintal's survey: home owners admit to being careless
Sintal has great everyday experience from the field; furthermore it conducted a survey that revealed the Slovenians admit not doing enough for protection of their own homes. Even basic protection, conducted by the home owner, let alone services of a professional security company, repels burglars.
Sintal's survey, conducted by Giedon agency, found out that at least three quarters of Slovenia's residents consider Slovenia to be a safe country. Two thirds of the surveyed admit that they do not protect their home well enough when they leave for a longer period of time. 86 per cent close windows thoroughly, 30 per cent assure that their mailbox is not full, and only 17 per cent ask somebody to check on the property, and less than 10 per cent switch on an alarm. The proportion differs significantly when asking people who were victims of criminal offenses in the past: 91 per cent of those do not consider Slovenia to be a safe country and they are also paying much larger attention to additional protection of their homes.
Simple measures against burglars
The burglars pay special attention to external signs of longer absence of residents. That is when they have enough time for preparation and execution of burglary and to cover the traces.
Sintal recommends these basic measures:

Ask a trustworthy person to regularly empty your mailbox, to open the windows and move the shutters and curtains from time to time, park on the driveway and dry the laundry.
Install time switches to which lights, radio etc. are connected and are randomly switched on.
Mow the lawn, remove the objects that burglars could use – ladders, tools etc.
Do not leave keys at "secret" places.
Notice only persons you trust about your departure. Do not indicate your absence on social networks and telephone or e-mail answering machines. The telephone's ringtone should be muted so that the ringing cannot be heard outside.
Before departure close water and gas valves and detach electrical appliances from the network.
Keep worthy items and larger quantities of money in a safe place. Just in case, jewelry, artworks and other worthy items should be photographed.
Do not forget to switch on the alarm system.
Similar security measures are recommended also for business areas.
Two hundred thousand triggered alarms
Currently, around 15.000 objects are connected to Sintal's security control centre. Daily it receives approximately 100.000 notifications about security related events from connected objects. Normal activations and deactivations of the alarm systems but also other events such as triggered alarms are included.
In the first half of 2011, Sintal recorded 205.730 alarms triggered in connected objects in the area of Ljubljana, Slovenia's capital city alone. Out of these, around 36.000 or 6.000 per month were alarm events with a high possibility of a robbery, burglary, theft, fire, water spill etc.
The patrolling security guards discovered approximately 170 criminal offenses, they captured 17 burglars and around 580 times the burglars escaped without their prey due to alarm and/or the arrival of intervening patrol, which significantly lowered the damages or even made them insignificant. In average, Sintal's intervention units arrived to the object where the alarm was triggered in seven minutes.
In the same period Slovenian police received 259.289 calls to the emergency phone number 113, of which 95.303 were events that required arrival of a police patrol to the point of event. Calls regarding burglaries are also included in the number. More than half of all emergency events were treated in the areas of police departments of Ljubljana and Maribor, two major cities.
###