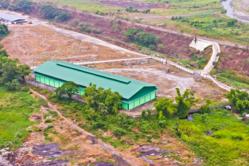 This partnership and the Memorandum of agreement will consist of carrying out our vision of providing clean green energy to the country while getting rid of the garbage and building satellite city's for people living in the Philippines.
Clark Freeport, Manila (PRWEB) November 11, 2011
True Green Energy Group http://www.tgeg.asia, ISIN number CA8724191066, Cusip number 872419106 trading on Deutsche Borse AG under the stock symbol TGG.F, Forged an agreement to become partners with Mr. Paul Lu, President of Universal Resources Development Incorporated, who also represents the interests of several prospective construction companies and multi-billion dollar firms in China, including but not limited to CITIC Group, China State Engineering construction Corporation, and China Railroad Engineering Construction Corporation, who expressed and articulated his group's keen interest to construct satellite housing projects in suitable locations in the Philippines in cooperation with True Green Energy Group, CJ Consortium and its various partners.
Paul Lu, the international marketing director and C.E.O of Universal Resources Development, Inc. (URD), presented to True Green Energy Group's Founder and Chairman Ronald Shane Flynn, the completed infrastructure projects his groups have already completed in China.
The purpose of this partnership between TGEG, CJ and URD is to build 500,000 homes in the Philippines that are sustainable as well as Eco friendly for the environment. In addition to building these homes TGEG, CJ, Consortium and URD will build satellite cities that will also include TGEG power plants to accommodate the impending economic problems of municipal landfill sites that have been closed.
The C.E.O Renato Lee III said, "Housing problems in the Philippines is basically a never-ending drawback in the central point of the Philippine archipelago – Metro Manila Philippines. For it is where all class and types of Filipinos conglomerate into congesting situations due to Manila which is the center of commerce, and industry wherein most Filipinos are thought to gain a lot of opportunities for growth and financial success. However, squatting is rampant throughout Manila and full of poor homeless people.
Squatting consists of occupying an abandoned or unoccupied space or building, usually residential that the squatter does not own, rent or otherwise have permission to use. The Partnership's main objective is to build universal lots in their respective provinces wherein all Filipinos could own their own home legally than just squatting in order to have shelter.
We intend to interview local Philippine banks and to select one of the most qualified to handle the low interest mortgages for the benefit of Filipino people for all the satellite housing projects in this partnership.
In many of the world's poorer countries, there are extensive slums or shantytowns, typically built on the edges of major cities and consisting almost entirely of self-constructed housing built without the landowner's permission. While these settlements may, in time, grow to become both legalized and indistinguishable from normal residential neighborhoods, they start off as squats with minimal basic infrastructure. Thus, there is no sewage system, drinking water must be bought from vendors or carried from a nearby tap, and if there is electricity, it is stolen from a passing cable.
This partnership will in no doubt help the Philippines to become a first world country that could include bullet trains, railways, hydro plants, and green energy projects that TGEG will promote and deploy.
Satellite towns are smaller municipalities that are adjacent to a major city, which is the core of a metropolitan area. They differ from mere suburbs, subdivisions and especially bedroom communities in that they have municipal governments distinct from that of the core metropolis and employment bases sufficient to support their residential populations. Conceptually, satellite cities could be self-sufficient communities outside of their larger metropolitan areas. The homes being built will be quite cosmopolitan and will present an exclusive demeanor.
Mr. Ronald Flynn Founder and Chairman said, "This partnership and the Memorandum of agreement will consist of carrying out our vision of providing clean green energy to the country while getting rid of the garbage and building satellite cities for people living in the Philippines. The estimated investment by Paul Lu's group would be approximately $5 billion USD in order to fund the first 500,000 homes."
URD is incorporated in the State of Texas, United States of America and sponsors, develops and funds: energy, natural resource, environmental and infrastructure projects.
Aside from completed infrastructures in China, URD has also completed projects in Africa, Asia, Europe, Latin America and Russia. Currently, URD has focused on developing projects in Asia particularly Japan, India, Indonesia, Malaysia and Vietnam.
Aside from mass housing, URD's current projects include: oil and gas exploration and development, pipelines and refineries; coal and iron ore mining; and, biofuels, ethanol and synthetic gas (syngas) plants. Other areas of development include water processing and commercial real estate.
This press release contains forward-looking information within the meaning of Section 27A of the Securities Act of the 1933 and Section 21E of the Securities Exchange Act of 1934, and is subject to the safe harbor created by those sections.
Contact: Ronald Flynn
PRINCEFLYNN(at)YAHOO(dot)COM
+639188880017
SOURCE True Green Energy Group
# # #