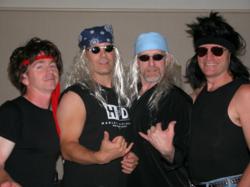 Kansas City, MO (PRWEB) November 11, 2011
Nov. 11, 2011 – Today commemorates this century's only National OneLouder Day (#111111). At eleven o'clock, thousands will take to the streets with smartphones and tablets in hand to celebrate this once in a lifetime opportunity.
"Obviously, 11/11/11 is a special day," said Evan Conway, President, OneLouder. "It is a fine line between stupid and….clever. We straddle it every day. After all, how often do you get to celebrate National OneLouder Day? Once, that's how many."
Throngs of people have already started taking to FriendCaster and TweetCaster to post celebratory messages and comments. Others are busy watching clips from the classic 1984 rockumentary This is Spinal Tap from the 11/11/11 channel in ChannelCaster. The less rock-entertainment inclined are still joining in, catching up on their fantasy stats in SportCaster.
"When we started the company earlier this year, it was our dream to rock out with more than five million fans on National OneLouder Day," said Conway. "Employees were handpicked based on a lifetime of taking it to 11. Today, I'm proud to announce we've reached that goal. We got that extra push over the cliff and took it to eleven [guitar face]."
OneLouder will host a This is Spinal Tap video marathon starting at 12:01 am, repeating 83 minutes of perfection until the closing of National OneLouder Day (approximately 17 times for those counting). This will be followed by a screening of The Hangover for those still left standing.
Those who wish to live their own Spinal Tap fantasy can submit their best 80s rock pictures via Twitter including #OneLouder and #111111, and on Facebook by posting to OneLouder's fan page at http://www.facebook.com/onelouderapps. OneLouder will be giving away 11 copies of the classic film to those who submit the best pictures (subjectively-judged). One lucky fan will also receive an Armadillo (not a real one!).
Though National OneLouder Day will pass into history, OneLouder will endure, persevere, and continue to make every day go to eleven. For more information about National OneLouder Day, visit http://www.onelouder.com and follow us on Twitter and Facebook.
About OneLouder:
OneLouder is a leading mobile app company creating a whole new breakthrough category of socially-powered apps. Drawing from social and crowd-sourced content, as well as digital news and entertainment sources, OneLouder delivers content that users can more easily manage based on their specific interests. The company has more than five million active users across its top rated apps, including TweetCaster, FriendCaster, SportCaster and ChannelCaster.
###