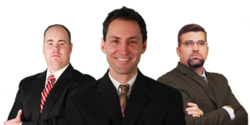 We've developed a niche within the legal community for being able to relate to our clients the vast nuisances of 18-wheeler accidents
Texas (PRWEB) November 11, 2011
http://www.texas18wheeler.com/
The Texas 18-Wheeler accident lawyers of Grossman Law Offices are proud to present their new website, Texas18Wheeler.com. The site consists of informative articles and common scenarios that victims of truck accidents can expect, following an incident.
Thankfully, most of us will never experience an accident with an 18-wheeler, but for those who do, this website aims to address every concern a victim may have. To most, a commercial vehicle wreck is a foreign event, only heard about on the news. However, actual victims of an accident need to know how these events are handled, from both their end and that of the defendant.
Fatal truck accident attorney Jerrell Wise remarks, "Truck accidents and automobile wrecks are dissimilar in just about every way. When someone is struck by an 18-wheeler, the claim is not as simple as just calling the liable party's insurance company. Rather, with huge insurance policies on the line, and in-house attorneys working for the trucking company, a victim needs to know their rights."
Attorney Wise is correct. A truck accident is not like a common fender bender. The differences are exactly why the commercial vehicle accident attorneys at Grossman Law Offices built the website. With so much inaccurate information available to the public, the firm designed the site to be easily accessible, and helpful in just about every situation.
Founder of Grossman Law Offices Michael Grossman notes, "After talking with our clients over the years, we knew we needed to build a site dedicated to the causes, and aftermath, of these types of accidents. We've developed a niche within the legal community for being able to relate to our clients the vast nuisances of 18-wheeler accidents."
About Grossman Law Offices:
With offices in Dallas, Tyler, Austin, Houston and other major cities, the 18-wheeler accident lawyers at Grossman Law Offices help people from all over. Skilled attorneys and adept in-house investigators are available to immediately go to work for truck accident victims.
###