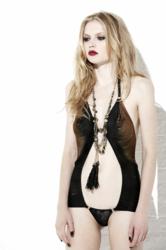 The collections are hand-made entirely by three talented seamstresses, at Niki's Leicestershire studio in the heart of the English countryside.
London, UK (PRWEB) November 15, 2011
While other luxury lingerie brands will deliver in February 2012, the first phase of Made by Niki's SS12 bodywear collection is already available at the brand's website and in Selfridges (London).
It is a continuation of the world-famous 'String' series which has already graced the pages of POP, Garage, Elle, Instyle and Wonderland magazine, with a voracious celebrity following including Naomi Campbell, KT Tunstall, Rihanna, Victoria Beckham, Paloma Faith and Daisy Lowe.
The stunning 'Atomic' collection, which is inspired by the secrets of the universe, includes beautiful burlesque clothing, lingerie and form-fitting statement bodywear pieces in graduated two-tone colouring.
An all-over fringed play suit in an ombre black and bronze colourway called 'Nibiru' has fully adjustable straps to ensure a perfect fit, while the matching harness cup less bra, fringed open knickers and thong suspends miraculously over a woman's curves. These uniquely designed pieces are also available in a champagne ivory and biscuit colourway entitled 'Supernova', which swathes the body in a shimmering silvery illusion to enhance the body's contours.
There is also a group of all-black 'Infinity' garments which includes a flapper dress which swings suggestively as the wearer moves, as well as a half-skirt (which can also be worn as a head-piece) and a lace-up ladies waist coat, alongside a striking cutaway lace bodysuit, boyshort, thong, bandeau bra and plunge bra featuring cutout shapes reminiscent of a lunar eclipse.
Undoubtedly the show-stopper of the collection is a set made entirely from glittering gunmetal ballchain and grosgrain straps entitled 'Stellar'.
The collections are hand-made entirely by three talented seamstresses, at Niki's Leicestershire studio in the heart of the English countryside. The campaign was shot by Andrew G Hobbs with Katia Elizarova, the up-and-coming model who has recently been signed as the face of Max Studio. Other stylists and photographers who have been quick to shoot the collection include Tamara Rothstein, Ruan Van Der Sande, Jean Marc Bulles and Stefan Rappo.
Made by Niki recently won victory at the UK Lingerie Awards."We were thrilled and surprised to beat other more established companies " said Niki. "Although we are a small, young and independent company of five people, the judges decided that Made by Niki's products exhibited a greater style and design aesthetic than the competition [Spanx and Maidenform], and we are truly ecstatic to be recognised for our achievements".
Made by Niki has been stocked in Selfridges for three consecutive collections and is available at over 100 stockists across 19 countries.
About Made by Niki
Made by Niki is Britain's Luxury Lingerie & Bodywear Brand, bringing you the world's most covetable pieces, created by a team of underwear obsessives in the heart of the English countryside. Loved by real women, rock stars and supermodels the world over, Made by Niki creates impossibly gorgeous lingerie, helping you to unleash your inner beauty upon an unsuspecting world.
AWARDS
2011 UK Lingerie Awards (Winner)
2009 East Midlands Business Award (Winner)
2009 UK Fashion Export Award (Shortlisted)
TESTIMONIALS
"Made by Niki somehow manage to be both incredibly saucy and incredibly chic, which is a serious accomplishment." Polly Vernon, The Guardian
"A fantastic lingerie brand..." Glass Magazine
"A sexy girl meets a classy lady who meets a cheeky hippie chick with a lil bit of a Retro girl thrown in. Made by Niki will get you laid!" A Little Nouveau / Style Bistro
"Decadence doesn't get any better than this" Esquire Magazine
"Made by Niki has changed the concept of body-shaping underwear." Marie Claire Online
# # #