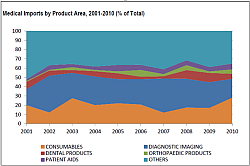 Chichester, UK (PRWEB) November 15, 2011
According to a new Espicom report, The Libyan Medical Market: Status and Post Conflict Opportunities, Libya's health sector could be set for sustained growth, with investment and facilities matching those found in other oil rich states.
It is a surprise to many that, pre-conflict, Libya had a reasonably comprehensive network of public primary, secondary and tertiary services. There is a small but well-equipped private health sector. Under Gaddafi, health funding was lower than might be expected given Libya's oil wealth, especially when viewed in comparison with states such as Saudi Arabia or the UAE.
Health spending has been hit hard by the fighting, and the report estimates it may have fallen to US$1.8 billion, or US$288 per capita. Imports of medical products collapsed in the middle of the year, and areas affected by prolonged fighting will have suffered from non-functioning facilities due to war damage, lack of supplies and absence of medical staff.
The position in the east of the country, around Benghazi, has been more stable. Shortages were reported, but these appear to have been quickly resolved, especially once Libya's overseas assets were unfrozen for such purposes.
The capacity of the country to restore, and exceed, the previous levels of health spending should be strong. The report projects that, given a degree of political stability, investment will rapidly rise beyond 2009 levels as facilities are reconstructed and extended over the next few years.
Andrew Crofts, senior health analyst at Espicom and the report's author comments "Libya has the resources to develop first class region leading health facilities and services, but only if the incoming government has the political will to realise them. Many markets are flat or are in decline; Libya, however, is expected to maintain year-on-year growth above 5% over the medium term".
For further information on the report please visit Espicomby clicking on the link to The Libyan Medical Market: Status and Post Conflict Opportunities
About Espicom
Espicom Business Intelligence is a leading publisher of medical and pharmaceutical market analysis. With over 50,000 users worldwide it's reports, news services and analysis products are used regularly by key decision makers in industry, government and commerce. A full catalogue can be found on the web at http://www.espicom.com.
###