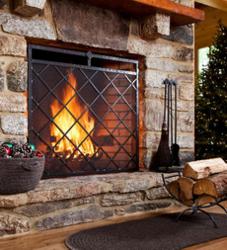 As winter weather settles in around the country, be sure not to get left out in the cold.

(PRWEB) November 14, 2011
Whether your hearth is brick, stone, granite or marble, accessories such as fireplace screens, wood racks, fireplace tools and bellows would make a great addition to design and function. These types of quality products can last for years and years.
This time of year you can find a variety of beautiful fireplace screens available in numerous designs and sizes. They even have the option of being custom made to your exact specifications depending where you purchase it, crafted just for your special or hard to fit fireplace. Considering your fireplace is the center of attention in most rooms it is important to have a beautiful screen to showcase it. Inviting family and friends to sit and be warmed and comforted by the heat and magical glow. Don't forget the fireplace tools sets which can be purchased to match your screen for a polished finished project. Most fireplace tool sets come equipped with a shovel, tongs, poker and broom.
As the weather starts to change and rain, sleet and snow begin to fall it can be a challenge trying to keep things under cover. You will be able to keep firewood dry and organized with study and durable wood racks. Remember, well seasoned wood burns hotter and more efficiently. Stacking your firewood in a rack facilitates the seasoning process, looks neater and stores more compactly. A wood rack also increases air circulation and can minimize insects and vermin. They are offered in a variety of lengths and style, some are even adjustable with vinyl covers available to protect your logs from rotting and getting too wet to use properly. A sturdy cover protects against the elements, allowing your woodpile to dry and season faster. Wood carts are a great way to transport logs from your woodpile to your front door, equipped with rolling wheels making it a breeze to go up the stairs or over rough terrain. Some are narrow enough to fit through the doorway allowing you to park directly beside the fireplace to unload. How great would that be? And they are so universal, the rack can double for moving trash cans, loading luggage to the car and so much more! If you experience problems getting your fire to start, try fatwood nature's finest natural kindling. It comes pre-split and ready to use and the resin has a nice piney aroma. Fatwood will make you look like a genius when you're starting a fire. Loaded with organic resins that ignite instantly, it burns with an intense heat and gets fire's going quickly - just two 8" sticks and a single match is all it takes. With an indefinite shelf life fatwood will even ignite when wet, so it's ideal for campfires, when you never know what shape the wood will be in as well as wood stoves and fireplaces.
Once you have that wonderful fire started, wouldn't it be great to keep all that warm heat inside? Insulated curtain are the perfect blend of fashion and function, designed to minimize drafts, create darker sleeping areas and protect carpet and valuables from sun fading. Today's smart choice in beautiful window covering, insulated curtains have a significant ability to impede cold air from entering the room. There by also lessening the load on the rooms heating system. In today's tuff economy anything you can do to reduce energy consumption is a step in the right direction. They look great too! And they are available in a wide range of fabrics and colors.
If you're looking to get prepared, Plow & Hearth offers quality fireplace screens, wood racks, fatwood and insulated curtains at great low prices. Don't be left out in the cold this year.
About Plow & Hearth
Plow & Hearth began as a small retail store in Madison, Virginia in 1980 and has grown to become a respected national catalog, retail and Internet company with more than 5 million customers. For over 30 years, the company has been a trusted source of unique, enduring products for the hearth, home, yard and garden, helping customers create an environment that is comfortable and welcoming, warm and personal. As part of their product development initiative,
Plow & Hearth works with artisans and manufacturers around the world to develop innovative products created from uncommon materials and crafted by hand. Special consideration is given to those products made with environmentally friendly materials as well as products that will encourage customers to be more environmentally responsible, such as composting products and energy savers. Every item they sell is backed by a 100% satisfaction guarantee. The Plow & Hearth Family of Brands also includes quality toys from HearthSong® and Magic Cabin®, weather instruments from Wind & Weather®, innovative solutions from Problem Solvers® and unique home and garden décor from WinterthurStore®.
Contact: Lakisha Chambers
lchambers(at)plowandhearth(dot)com
###