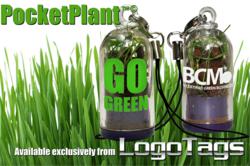 Mount Vernon, NY (PRWEB) November 15, 2011
Now there is a whole new way to promote your company, organization, or cause while also raising awareness for the health of our planet and reminding your customers to be green. The PocketPlant™© is an environmentally friendly key chain acrylic capsule filled with grass seed and fertilizer with your logo printed right on the capsule. This is a great conversation piece that will capture attention and lead to discussion about your company or organization and environmental awareness.
This is not your typical promotional product that will be thrown away shortly after it is distributed. The PocketPlant™© is a living thing that people will carry around and care for while keeping your logo visible. Keep it on your desk, windowsill, in your car, on a necklace – it works pretty much anyplace where there is light. All you need to do is soak it in water once a day or so and watch it sprout. Once the grass starts to grow, it can be re-planted into the earth.
LogoTags created the PocketPlant™© to create environmental awareness with a promotional product. We love this planet and we hope you do too, so show your customers that your company cares as well by giving them a beautiful reminder to think about and care for our planet all the time. Let's all do our part to promote the health of our planet!
For more information about the PocketPlant™©, visit LogoTags at http://www.LogoTags.com.
###