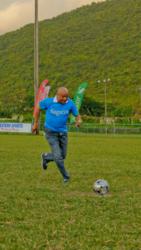 Kingston, Jamaica (PRWEB) November 13, 2011
It was an exciting start to the 2011 Sagicor UWI Champions League, with a penalty kickoff and a goalfest in the opening games on Sunday, November 6.
The first match in the knockout competition before packed stands at the UWI Mona Bowl saw Block X (Chancellor) taking Knights (AZ Preston) 5-3 on penalties, after playing to 3-all in regular time. The second match was a spirited encounter between Attica (Taylor) and ABC Cobras (ABC), with the Atticans moving to the next round with a convincing 5-1 victory. Andre Smith scored a double for the Atticans in the 58th and 65th minutes of the match. Leo Harvey pulled one back for the underdog ABC Cobras in the 37th minute.
The well-attended kickoff signals the return of the competition after a four year absence, with new sponsor Sagicor Life Jamaica committing to the 2012 season.
Mark Chisholm, Vice President Individual Line Sagicor, opened the league with an impressive display of ball control skills, scoring the ceremonial penalty kick. Chisholm says the Sagicor UWI Champions League continues a Sagicor tradition. "Sagicor has a longtime connection to UWI. I am a graduate, along with many other Sagicor employees. This University is about education, leadership and sports, which Sagicor also endorses. That is why we are making the commitment now to stage the Sagicor UWI Champions League again next year."
Terron Dewar, Games Committee Chairman, UWI Mona Guild says the Sagicor UWI Champions League got off to an excellent start and is expected to grow as the competition progresses. "We are ecstatic to see the turnout and that Sagicor has agreed to come on board again next year. We expect even more people to come out and support on Fridays and Sundays as this knockout competition heats up and it lays the foundation for next year."
The 16 participating teams lined up in a Dress Parade, with Mafia taking the top spot, followed by Vikings and Knights. The top three male blocks from each hall on the Mona Campus of the University of the West Indies are competing for $100,000 in cash prizes, the Sagicor UWI Champions League Trophy and all important "bragging rights".
The Sagicor UWI Champions League continues on Friday, November 11 with two matches under lights at the UWI Mona Bowl: Stallion (Taylor) face Revolutionaries (Rex Nettleford) at 5pm and Vikings (AZ Preston) go up against Mafia (Irvine) at 7pm.
###