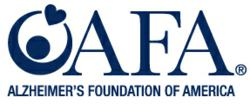 NEW YORK, NEW YORK (PRWEB) November 14, 2011
WHAT: Individuals can take advantage of free memory screenings at more than 2,500 sites nationwide on National Memory Screening Day, an annual initiative of the Alzheimer's Foundation of America (AFA) to promote proper detection of Alzheimer's disease and related illnesses, and education about brain health.
WHEN: Tuesday, November 15, 2011 (Times vary at local sites)
WHERE: Local sites nationwide—visit http://www.nationalmemoryscreening.org
WHY:

Underscoring the need for greater attention to Alzheimer's disease are studies that show that general practitioners miss about half of dementia cases. As well, with advanced age the greatest known risk factor for Alzheimer's disease, the incidence is increasing dramatically in line with aging baby boomers.
November is National Alzheimer's Disease Awareness Month.
The urgency of the Alzheimer's disease crisis is garnering more national attention than ever, as federal leaders begin crafting the nation's first national plan for the prevention, treatment, cure and care of the brain disorder. AFA recently urged leaders to include strategies to beef up early detection in the plan, such as a public service campaign to drive proper diagnosis and treatment, inclusion of cognitive screening as part of the new Medical Annual Wellness Exam, and enhanced training for clinicians to detect the disease.
More than 2,500 local sites will be offering memory screenings, including the entire chain of Kmart pharmacies, Alzheimer's agencies, senior centers, libraries, long-term care residences, home care agencies, hospitals, and doctors' offices. Sites are listed at http://www.nationalmemoryscreening.org.
AFA's ninth annual National Memory Screening Day has garnered the support of 30 leading professional associations, including groups such as the American Academy of Neurology, the American Association for Geriatric Psychiatry, and the National Association of Area Agencies on Aging.
The confidential screenings average five to ten minutes and consist of questions and tasks to assess memory. The results do not diagnose any illness, but can indicate whether someone should pursue a full medical exam. Proper diagnosis of Alzheimer's disease or a related illness is essential to managing and treating the disease, and planning for the future.
Alzheimer's disease currently affects 5.1 million Americans and is the sixth leading cause of death.
Lifestyle changes—diet, stress management, physical-mental exercise—can help people age successfully.
The Alzheimer's Foundation of America is a New York-based national nonprofit organization focused on care for individuals with Alzheimer's disease and related illnesses, and their families. Call 866-AFA-8484 or visit http://www.alzfdn.org.
###