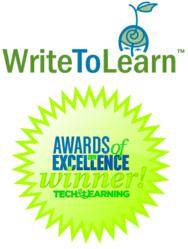 Bloomington, MN (PRWEB) November 14, 2011
WriteToLearn, Pearson's web-based literacy tool to improve reading comprehension and writing skills, is a winner of a 2011 "Tech & Learning" magazine Award of Excellence. For the second consecutive year, Pearson leads the prestigious competition, with honors for seven of its online and mobile learning tools and programs. WriteToLearn was developed based on more than 15 years of research and evaluation and is illustrative of Pearson's overall commitment to collaborating with educators to develop next-generation assessments that will improve student achievement.
The only online writing tool that provides automated scoring and immediate feedback to improve both reading comprehension and writing, WriteToLearn offers students an engaging and motivational environment for practicing and refining their skills.
"As states and school districts around the country look for ed-tech solutions to help them accelerate student achievement, they are increasingly turning to WriteToLearn because it helps build literacy skills across the curriculum," said Lynn Streeter, president of the Knowledge Technologies business of Pearson and developer of WriteToLearn."We are proud that Tech & Learning judges also recognize its value as a powerful learning tool and add this prestigious award to WriteToLearn's growing list of honors."
WriteToLearn received 2011 Award of Excellence Best Upgraded Product honors. In the newest update to the award-winning tool, students whose primary language is Spanish or Chinese can now have the instructions for using WriteToLearn and the feedback they receive on their work translated into their native languages. Additional language support tools for all students are available through an embedded dictionary with cross-language translation and text-to-speech functionality that now reads text aloud in Spanish as well as English. WriteToLearn also includes new ELL-specific essay prompts and reading passages.
WriteToLearn is among the winning products featured in the December 2011 issue of "Tech & Learning" magazine, as well as on the website. For more information, visit http://www.WriteToLearn.net.
###