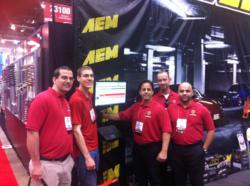 Weston, FL (PRWEB) November 14, 2011
Online automotive superstore, AutoPartsNetwork.com® (APN™), took its entire team to the November 1st 2011 Las Vegas SEMA and AAPEX automotive trade show to research new product technologies, generate company awareness, and build strong relationships with top automotive brands and vendors. The four-day auto show marked the first major event that APN has attended with its entire staff and it proved a fun and productive experience for everyone involved.
The APN team came well-prepared, with branded APN gear and its camera crew to document the event and provide photo and video content for APN customers. Lead by APN's CEO, Charles Bonfiglio, and CTO, Daniel Hofmann, a varied team of technical officers, vendor managers and customer service reps worked their way through the vast sea of exhibitors in their APN branded apparel. Though several APN team members had never attended the SEMA show before, they had no problem winning the attention of vendors and manufacturers with descriptions of APN's vast parts catalog and high tech online distribution system.
Unlike other online auto parts distributors that distribute generic, "white box" parts, APN focuses on distribution of high-quality name brand products, making SEMA a must-attend event. Instead of settling for lower quality products to cut prices, APN offers discount auto parts for top brands by building strong vendor relationships, which is exactly what they accomplished at the SEMA Show. Together, Team APN spent every breakfast, lunch, and dinner exchanging ideas and building relationships with vendors and manufacturer representatives of popular brands, who were all eager to share insight on new products, hot popular items, distribution methods, and future growth collaboration with Team APN.
In addition to forging new vendor relationships and strengthening existing ones, the APN team scouted for the latest advancements in automotive parts and accessories from their currently carried brands. Auto Parts Network® CTO, Daniel Hofmann, stated after returning from the SEMA Show, "Our meetings at SEMA solidified the support of our excellent brand vendor lineup and their commitment to working with APN to deliver the highest quality products and pricing availability that consumers demand and deserve." APN strives to offer the latest automotive technologies, and the 2011 SEMA Show featured thousands of exhibitors with plenty of new product demos for APN staff to evaluate new product offerings on their ever-expanding online auto parts catalog.
The APN team was very excited to be so well-received at the largest auto trade show in the world, and was especially excited to see the progress in vendor relationships, which showed significant growth from even last year's SEMA Show. Though many auto part vendors have been hesitant or unprepared for online distribution, the advanced features of Auto Parts Network is giving them a new reason to get on board with its high tech online distribution chains.
Overall, SEMA 2011 was a highly productive event for the advancement of Auto Parts Network's distribution channels and a great awareness boost for the company itself. The excitement and cooperation seen from vendors and other product representatives was particularly encouraging to the growth of Auto Parts Network, and showed, among other automotive advancements at SEMA, that many vendors are eager to start offering their products on AutoPartsNetwork.com® online automotive superstore.
About AUTO PARTS NETWORK®
Auto Parts Network® is an online auto parts superstore designed to be the world's most complete online shopping resource for automotive parts, products, accessories, and services supported by strong vendor relationships, and a vast network of nationwide distribution centers.
# # #