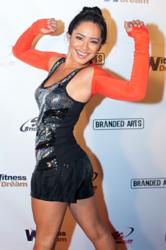 Los Angeles, CA (PRWEB) November 11, 2011
On Saturday, November 5, 2011, BODY LUV Inc. debuted its new apparel line SLIXXS – a hot, body conscientious line of fashion apparel accessories at the Branded Arts exhibition at Smashbox Studios in West Hollywood CA. Models were wearing BODY LUV'S SLIXXS innovative designs over trendy sequined tops and boy shorts, and body con dresses. BODY LUV fills the void in the marketplace for fashion arm accessories - as a hybrid of a shrug and arm warmer, featuring one-of-a-kind designs that go from casual - to sporty - to sexy evening looks, depending on the unique fabrications and prints.
Sexy and stylish! SLIXXS designs coordinate with the latest fashions and complete any outfit from day to eveningwear. Since all the BODY LUV lines are styled for women, teens, and young girls of every size and age – they are the perfect wardrobe "essential." The products' quality fabrics and excellent fit have a special sizing technique. Additional fabric is incorporated to accommodate a tall person or a short person - both may wear the very same garment.
Fun and functional! Trends may come and go – but BODY LUV was created to give the illusion of a trimmer, slimmer arm, as the fabric combines a specialty fit and finish, replacing the need for buying bulky jackets, sweaters, and matronly shrugs to cover up sleeveless garments. The heavier knit garment keeps the chill off and the lighter version is constructed of a fabric that has an SPF/UPF property, keeping harmful sun's rays off the arms, at the same time giving a woman confidence that her arms appear toned.
All BODY LUV products are made of a patented garment fabric for athletic and children's wear as well. For athletic wear - the SLIXXS line can be used as an arm warmer for athletes and UPF sun protecting clothing for bikers, runners, and tennis players. As the ozone is compromised, it keeps the sun off (SPF treated) and UPF 50+ with each garment containing a UPF (ultra violet protection factor) tag. Its high quality fabrication features special weaves, washes, and natural fibers to give the highest level of UV protection and breathe-ability.
About BODY LUV, INC.
BODY LUV Inc. founded in 2011 by Julie Hansen, created this clothing line out of necessity. Hansen believed that women needed something besides a big wrap to cover their flabby, ''baby boomer'' arms. Hansen recognized there was a large market for a garment to reduce the appearance of cellulite on the arms. BODY LUV is the answer to the upper arm problem, as Spanx answered a need for slimming the lower half of a woman's body. BODY LUV Inc. divisions each address a need in the marketplace – SLIXXS are trend-setting fashion apparel designs and are geared to the work out enthusiasts for total outdoor protection and support; SLIXXS TOO is specifically designed and fabricated for children. For more information please visit http://www.facebook.com/Bodyluvvv
2011 Branded Arts Exhibition
This year's Branded Arts event was held at Smashbox Studios in Hollywood. The art exhibition featured special guest DJ Samantha Ronson. A portion of the proceeds of all sales went to Witness To A Dream Foundation and The Terry Brand Book Scholarship. Both nonprofit organizations mentor inner city kids and help them to pursue their dreams. For more information and to view all the BODY LUV designs please visit http://www.brandedarts.com
###