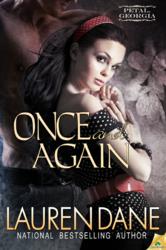 Cincinnati, OH (PRWEB) November 14, 2011
International publisher Samhain Publishing® today officially announced the following Samhain authors who have received nominations for RT Book Reviews Career Achievement and Reviewers' Choice awards:
LAUREN DANE - CAREER ACHIEVEMENT nomination (Erotica)
JOELY SUE BURKHART - Best Paranormal/Fantasy/Sci-Fi Erotic Romance nomination for LADY DOCTOR WYRE
VIVI ANDREWS - Best Digital First/Indie Press Paranormal/Fantasy/Futuristic nomination for THE SEXORCIST
MEG BENJAMIN - Best Digital First/Indie Press Romance nomination for BRAND NEW ME
LORELEI JAMES - Best Digital First/Indie Press Erotic Romance/Fiction nomination for COWGIRLS DON'T CRY
JAYNE RYLON – Best Digital First/Indie Press Erotic Romance/Fiction nomination for MORGAN'S SURPRISE
"We couldn't be more proud of our extraordinary authors," said Christina Brashear, president, Samhain Publishing. "Thank you to RT Book Reviews' editors and reviewers for their work in undertaking such a monumental task once again."
To determine nominations, RT staff reviewed more than 3,000 reviews issued for the past twelve months to compile the best of the best. In a statement by RT Book Reviews, the magazine indicated that Reviewers' Choice nominations included "only those novels that deeply resonated" with editors, while Career Achievement nominees "have continuously crafted superior books throughout their careers in each category."
Winners will be announced in the May issue of RT, just prior to the 29th annual Booklovers Convention in Chicago, April 11-15, 2012, and will be honored at an April 13 ceremony at the convention.
About Samhain Publishing
Launched in 2005 with a vision of bringing extraordinary fiction to compulsive readers (who sometimes can't wait for a book to actually be printed), Samhain Publishing® is an international publisher of ebook and traditional print fiction. One of the most prominent voices of original ebook fiction, Samhain represents some of today's brightest authors of romance and horror fiction. To learn why at Samhain "it's all about the story…", visit Samhain Publishing online at http://www.samhainpublishing.com.
###