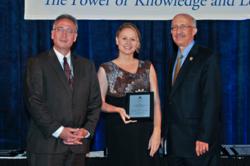 Fort Myers, Florida (PRWEB) November 11, 2011
The Fort Myers Regional Partnership received an Excellence in Economic Development Award from the International Economic Development Council for the "Together for Business" Integrated Marketing Campaign in the category of Paid Ad Campaign for communities with populations of more than 500,000.
The honor was presented at an awards ceremony in September during the IEDC Annual Conference in Charlotte, North Carolina.
"We recognize the Fort Myers Regional Partnership for providing successful strategies to promote new standards in economic development in this period of global recovery," said Dennis Coleman, IEDC chair. "Our awards honor organizations and individuals for their efforts in creating positive change in communities. They are showing that they are at the forefront of the economic development profession and are using innovative and effective practices that can be replicated in other communities."
The Excellence in Economic Awards Program annually recognizes the world's best economic development programs and partnerships, marketing materials, and the year's most influential leaders. The program honors organizations and individuals in 28 categories for their efforts in creating positive change in urban, suburban, and rural communities.
The mission of the integrated marketing campaign launched by the Fort Myers Regional Partnership was to leverage existing relationships within the community and the region to identify potential business candidates for expansion or location to Lee County. To accomplish this, the Fort Myers Regional Partnership implemented an aggressive and integrated fusion of both traditional and new-age marketing approaches for economic development.
"Together for business has become our rallying cry throughout all elements of the campaign and was strategically implemented in advertising, marketing and promotional messages to engage all business leaders, residents, and industry partners," stated Jennifer Berg, marketing and communications director of the Fort Myers Regional Partnership.
Through the support and benefits of the public-private partnership with The Horizon Council to provide strategic direction, active involvement, and financial support of these integrated marketing efforts, the Partnership has effectively saturated the market with this message, thus increasing its effectiveness.
"We are well underway to take our integrated marketing and communications plan to the next level in 2012 with creative and dynamic strategies from website presence, advertising, social media, and public relations to partnerships and online exposure reaching targeted audiences in and out of the market to make Lee County more vibrant and a better place for all of us," continued Berg.
The Fort Myers Regional Partnership, Lee County's Economic Development Office, is driven by its long-term, forward-thinking mission to expand and diversify the local economy.
About the International Economic Development Council
The International Economic Development Council (IEDC) is the premier membership organization dedicated to helping economic development professionals create high-quality jobs, develop vibrant communities and improve the quality of life in their regions. Serving more than 4,500 members, IEDC represents the largest network of economic development professionals in the world. IEDC provides a diverse range of services, including conferences, certification, professional development, publications, research, advisory services and legislative tracking.
About Fort Myers Regional Partnership
The Fort Myers Regional Partnership works to attract new and diversified businesses resulting in high-wage, high-skilled jobs; retains and encourages the expansion of existing businesses and improves the overall business environment. Lee County is a thriving business community with a highly regarded airport, significant corporate development and ample real estate opportunities. The area is attracting, retaining and growing high-value businesses with a unique blend of an outstanding business climate and superior quality of life. The county is home to five vibrant cities--Fort Myers, Bonita Springs, Cape Coral, Fort Myers Beach, and Sanibel--and is the heart of Southwest Florida.
The Partnership continues to promote and build the region through ongoing efforts from its proactive team of domestic and international recruiters, research staff and community liaisons, as well as through its partnerships with the Horizon Foundation, the Horizon Council and the Lee County Industrial Development Authority.
Since 1996, 5,546 new jobs and $1,065,570,586 in economic impact have been committed to as a direct result of key local incentive programs; Lee County Job Opportunity Program and the First Incentives for Recruiting Strategic Targets as well as State of Florida incentives and the State Closing Fund.
In addition to the core website, http://www.FortMyersRegionalPartnership.com, Fort Myers Regional Partnership can also be found on these popular social networking sites:
Editor's Notes:
Unique story angles, resources and trend data are available in the online Media Center at http://www.FortMyersRegionalPartnership.com/AboutUs/MediaCenter
For executive interviews, success stories and additional media relations services, please contact Jennifer Berg, Fort Myers Regional Partnership, via phone at 239.338.3161 or email at JBerg(at)leegov(dot)com.
###