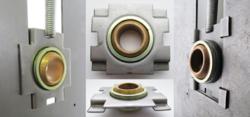 Oshkosh, WI (PRWEB) November 15, 2011
Triangle Manufacturing introduces a custom conveying component produced for a conveyor company that specializes in grocery store and retail conveying machinery. Triangle was challenged with creating a multi-component take-up bearing that could account for an inconsistent mounting surface and was sturdy enough to tolerate the constant strain and stress of correctly tensioning conveyor belts.
The application of this stamped component is to correctly tension conveyor belts. It was custom designed to be an adjustable take-up bearing that would hold the conveyor shaft steady. Triangle manufactured this component using a standard ball and ring along with a custom stamped bracket. This bracket was designed to slide along a cut out within the sheet metal mounting. A significant benefit to using a Triangle plain bearing was the tolerance for misalignment.
Sheet metal assembles are rarely perfectly straight or parallel which can pose a problem in bearing functionality and longevity. The Triangle bearing self-aligns and allows for imprecise mounting while continuing to function correctly. The customer experienced significant cost savings because they could utilize an inexpensive mounting without risking bearing misalignment.
This multi-component take-up bearing is ideal for conveying and packaging systems. Triangle also produces hanger and mounted bearings that can be used in conveyor applications. Flange mounted bearings are used when a shaft axis is perpendicular to the bearing mounting surface while pillow block mounted bearings provide load support for a rotating shaft's axis. Both of these mountings are used in packaging and conveying mechanisms for a variety of industries, such as food preparation, shipping and assembly.
About Triangle Manufacturing
For almost a century, Triangle Manufacturing Company, located in Oshkosh, Wisconsin; has used creative engineering, technical know-how and advanced automation to be the leader in fully customizable metal fabrication, product innovation and invention. We have introduced and redesigned products that are revolutionary in their respective industries. Whether you need lazy susan bearings, or rod ends and custom mountings for direct- drive and belt-driven motors, you can Consider It Done with Triangle Manufacturing.
###