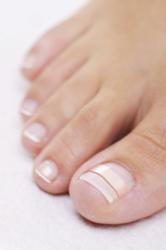 Available for home use, CurveCorrect Ingrown Toenail Treatment permanently eliminates ingrown toenails.
Santa Clarita, CA (PRWEB) November 15, 2011
CurveCorrect announced the redesign of their product CurveCorrect Ingrown Toenail Treatment to enable application by the user at home. CurveCorrect, a small company in Southern California, has been treating the ingrown toenails of customers in and around Los Angeles County since 2008. Previously the product had to be applied by a technician making a house call therefore it was only available to residents within range of their office in Santa Clarita, CA. The product is available now on the company website.
CurveCorrect has responded to requests to treat patients farther and farther away. "Growth pushed by ingrown toenail treatment requests from outside our coverage area propelled us to create a product that could be applied by the user," said Jason Ree, founder and director of sales for CurveCorrect. "This required a complete redesign of the product. Before, ease of application wasn't a major concern. Now with customers treating themselves, making ingrown toenail treatment easy to perform by the average individual was a high priority."
"With this change in our business approach it's important that support is available for our customers if they have questions or run into problems. We've added the necessary customer support through both email and a help line." According to Jason, "We want to make sure our customers can get assistance whenever they need it."
CurveCorrect Ingrown Toenail Treatment eliminates common ingrown toenails without the need for surgery. Treatment demonstrates a low recurrence rate equal to ingrown toenail surgery, however compared to surgery CurveCorrect Ingrown Toenail Treatment is painless, convenient, non-invasive, inexpensive and requires no cutting or application of chemicals.
"I developed CurveCorrect out of necessity. I've had severe ingrown toenails for as long as I can remember," said Jason. "I underwent a failed ingrown toenail surgery when I was a teenager. While the surgery provided me with temporary relief, the condition returned within a year. I felt I had no other option. I began testing different ideas and designs on myself and eventually came up with CurveCorrect Ingrown Toenail Treatment. My ingrown toenails have been eliminated as well as the ingrown toenails of thousands in our community."
Ingrown toenail pain is the result of a toenail that has become excessively curved. Ingrown toenails develop because of improper foot and nail care. Tight fitting shoes and trimming toenails too short are the top causes. An estimated 31 million Americans experience recurring ingrown toenails. "As a child I was never shown how to trim my toenails correctly or that my shoes may be too tight." According to Jason, "This is something parents must be made aware of and educate their children. During the childhood years is where 80% of ingrown toenail conditions start. Changes in the toenail and surrounding tissues during the development of an ingrown toenail are permanent. Until recently the only lasting solution was surgery."
CurveCorrect Ingrown Toenail Treatment is a very thin, flexible and transparent composite material that's applied to the toenail. After the product has been applied the user can go about their daily activities as usual. Ingrown toenail pain is eliminated within the first few days. Correction of the toenail continues for the next few weeks while the toenail returns to a more healthy shape. After a few months, treatment is discontinued. With proper foot and nail care the ingrown toenail will never return.
As the leader in this type of innovative treatment for ingrown toenails, CurveCorrect Ingrown Toenail Treatment enables people of all ages to eliminate ingrown toenail pain and avoid office surgery or continuous self-surgery. CurveCorrect provides its customers with a simple product that treats ingrown toenails conveniently and painlessly.
For more information, visit http://www.curvecorrect.com or call 1-800-404-1249.
###