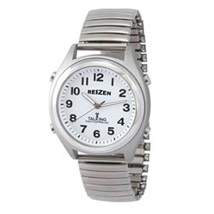 Above everything else, these watches are indistinguishable from normal ones yet are fitted with all the necessary features a visually challenged person can ask for.
Des Plaines, IL (PRWEB) November 12, 2011
Active and Able has a large selection of talking watches suitable for every occasion, from silver or gold tone watches for formal affairs to leather banded watches for casual activities. Six talking watches have recently been introduced to Active and Able's already impressive array of watches so it is certain that the perfect watch can be found to fit any lifestyle and any budget.
The Atomic Talking Watch boasts an attractive chrome finish and an expansion wristband, which is ideal for those who find it difficult to fasten tradition watchbands due to arthritis or dexterity limitations. This attractive and clever watch automatically resets itself and adjusts for Daylight Savings time. The Atomic Watch announces the time, date and day of the week in a clear male voice and also has an hourly chime/time announcement, which can be turned off, if so desired. A cassette with operation instructions is included and audible clues help the owner navigate through alarm setting and other functions.
For those with an active outdoor lifestyle, the Digital Analog Water Resistant Talking Sport Watch is the perfect companion for almost any activity. The time is announced in a clear, pleasant female voice and the watch also has an hourly chime that can be turned off. The Water Resistant Talking Sport Watch also boasts an alarm with snooze capability so the wearer doesn't lose track of time while out and about. This black watch with durable resin watchband has four function buttons plus crown for setting analog time.
In addition to talking watches, Active and Able offers a large selection of innovative assisted living aids to allow those with hearing, memory, mobility, vision and dexterity concerns live an active, able and independent lifestyle.
About Active and Able
Active and Able is a subsidiary of Specialty Store Services, a second-generation family owned business that offers everything necessary to operate a thriving retail store, from logistical solutions and retail supplies to custom and stock fixtures. Active and Able was created in response to the need for assisted living aids to help those people with mobility, audio or visual limitations live more independently and comfortably. This service-driven company has cultivated relationships with global partners while developing the expertise and knowledge required to provide competitive prices, outstanding customer service and quality products.
###