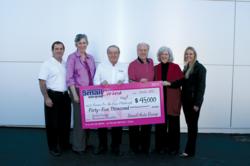 Breast cancer awareness is a cause that is close to the heart of my family and our company," said Bud Smail. "Many customers stopped in and shared their thanks for such a unique reminder of the importance of breast cancer awareness and early detection
Greensburg, PA (PRWEB) November 14, 2011
Last month, Smail Auto Group raised $51,170 through the "Smail Auto Group Cares" campaign, in support of National Breast Cancer Awareness Month. The campaign included covering each of their eight buildings in over 5,000 square feet of pink vinyl, as well as raising funds for two local charities committed to breast cancer awareness, screenings, research and education.
"Breast cancer awareness is a cause that is close to the heart of my family and also our company," said Bud Smail. Many customers stopped in and shared their thanks for such a unique reminder of the importance of breast cancer awareness and early detection. "Seeing our employees, our customers and the community really rally behind this campaign," Jim Smail continues, "gives me hope that there will someday be a cure for this monstrous disease."
All of the funds raised were distributed to the Pittsburgh Affiliate of Susan G. Komen for the Cure and Westmoreland Walks, Inc. "Taking Steps Against Breast Cancer." Komen Pittsburgh serves a 30 county area in Western and Central PA. Their services range from outreach efforts such as the Mammogram Voucher Program, grant making, education, and research with many of the local hospitals. Westmoreland Walks, Inc. proceeds benefit the PA Breast Cancer Coalition as well as their Pink Ribbon Scholarship and Spa Serenity Day.
So, while Smail Auto Group's pink covered buildings may have caught your eye, the Smail family and their employees are hoping that the project not only received attention for it's outward appearance, but more importantly for what it represents: A commitment to raising awareness and funds to fight a disease that has touched the lives of so many women and families in our community.
Smail Auto Group has been family owned and operated for over 75 years. They proudly represents nine new car franchises – Acura, Honda, Mercedes-Benz, Kia, Ford, Lincoln, Mazda, Cadillac and GMC – five service and parts centers, Smail Collision Center, Smail Auto Glass and the brand new Smail Auto Car Wash/Detail Center.
They are committed to complete customer satisfaction and are honored to be continually ranked high by their valued customers. In addition to supporting breast cancer charities, Smail Auto Group also supports numerous other causes and local charitable organizations.
All Smail dealerships are conveniently located on Route 30 in Greensburg, PA – just mile east of Westmoreland Mall. Visit SmailAuto.com for all of your automotive needs.
# # #