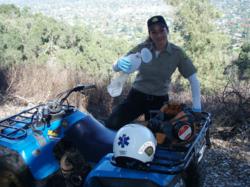 The Pocket BVM meets all our operational needs: compact to carry, quick to deploy and effective to use. It's a serious product for serious applications.
Houston, TX (PRWEB) November 14, 2011
The coastal mountains of California are beautiful, but are also far removed from standard transportation and emergency care. The members of the Los Gatos-Monte Sereno Disaster Aid Response Team patrol this area by foot, bicycle and ATV. These vehicles leave much to be desired in terms of having sufficient space for emergency supplies. Earlier this year, the PerSys Medical based in Houston, Texas donated Pocket Bag Valve Masks (PVBMs) to help the response team with this unique challenge.
A bag valve mask (BVM) is a tool that first responders carry to aid in resuscitation of a patient. The device is hand held and provides positive pressure ventilation (the process of forcing air into the lungs) for someone who is not breathing spontaneously, or is breathing inadequately. Not only first responders, such as EMS, use BVMs, but they are also used in hospitals as part of crash carts, and before surgery to aid patients' breathing while being anaesthetized. The tool is generally made up of a bag that re-fills itself with oxygen after every squeeze, a valve to regulate pressure, and a mask for the patient.
Bag valve masks are useful devices, although they are normally cumbersome and take up a large amount of space in a kit or ambulance. Approximately three years ago a group of paramedics in Israel formed the company MicroBVM and developed a BVM that is collapsible and fits into a case the size of your hand allowing multiple BVMs to be stored on board an ambulance, or to be fit into a small first aid kit.
The Rescue Team in Los Gatos cannot afford the space to carry BVM's with them in field, so instead they have been carrying flimsy CPR shields that protect in basic mouth-to-mouth resuscitation. While performing CPR, an EMT cannot perform other duties to help treat the patient, decreasing the quality of patient care. While performing CPR with a BVM, an EMT can perform other duties such as addressing open wounds.
"The Pocket BVM greatly improves the in-field quality of medical support provided by our teams: while still light and compact, the Pocket BVM is capable of efficient operation for extended periods," stated Dana Timbrock of the Los Gatos-Monte Sereno Disaster Aid Response Team. The team has now added the PBVM to their kits as well as team-wide CPR training updates.
PerSys Medical specializes in bringing life-saving innovations to market. We seek the highest quality of innovative technologies and products to meet medical challenges. PerSys Medical markets and distributes a variety of emergency medical products to military, law enforcement, homeland security, EMS, and wilderness medicine agencies as well as worldwide government agencies. The company has been active in the medical field since the mid 90's, responding to a growing demand for life-saving products. Aided by our close relationship with medics and other health care providers we have successfully produced several life-saving innovations, which have become the standard in the US military and other leading organizations.
PerSys Medical has an active distribution of networks catering to militaries and emergency services worldwide. Our mission is to provide military and civilian caregivers with the most innovative solutions to improve the quality of care and ultimately save lives.
###